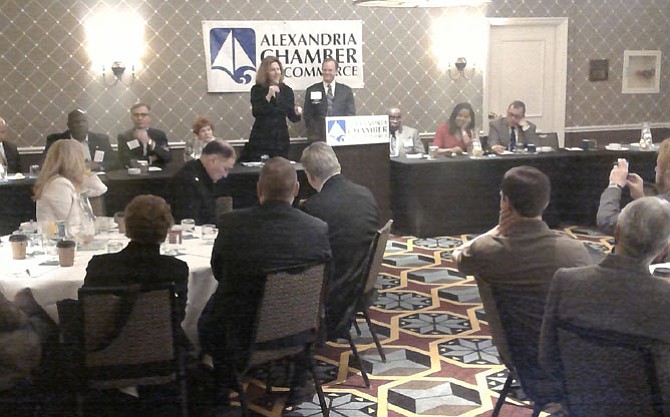 The Alexandria Chamber of Commerce hosted members of City Council and the Virginia General Assembly at its annual Legislative Breakfast March 10 at the Hotel Monaco.
City representatives participating in the event, which was presented by Dominion Power, were Mayor Bill Euille, Vice Mayor Allison Silberberg and council members John Chapman, Del Pepper, Paul Smedberg and Justin Wilson. Virginia state senators George Barker, Adam Ebbin and Del. Charniele Herring were also in attendance.
The state delegation discussed the recently concluded General Assembly session, with each representative highlighting what they consider the most significant results from that session. High on each of their lists was workforce development and its impact on the Northern Virginia region.
City Council members cited several issues they felt were significant in the current council session including the Metro at Potomac Yard, parking, the waterfront and the development of Landmark Mall.
The chamber used the occasion to announce that it will host a mayoral debate sometime in May. Information will be posted on the chamber's website as it becomes available. www.alexchamber.com