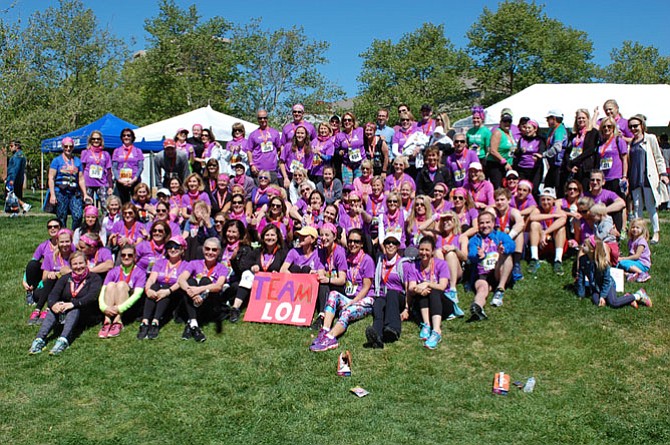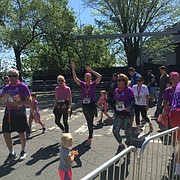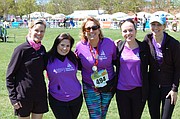 The Leukemia & Lymphoma Society (LLS) National Capital Area Chapter announced that Team LOL – a group of 140 women, and a few good men - raised $535,000 and counting for its mission through the Team in Training program this spring, bringing their grand total to $1 million since 2013. They are just the second team in the National Capital Area to cross the $1 million mark through Team in Training (TNT) – and first friends & family team to reach this milestone.
"The passion and determination of Team LOL has had a tremendous impact on our mission to find cures and improve access for our patients to lifesaving treatments," said Beth Gorman, executive director of the National Capital Area Chapter. "I was personally inspired by this group, who truly exemplifies the phenomenal volunteerism seen in Team in Training and throughout LLS, and am incredibly thankful for their support and determination to make a true difference for our patients and their families."
Team LOL (Look out Leukemia & Lymphoma) was started by McLean resident Lynne O'Brien, a leukemia survivor who turned her diagnosis into a purpose to help others. After participating in Team in Training on her own in 2013, and achieving top national fundraising honors, she formed Team LOL to magnify the impact she could have on cancer research and patient programs. The team grew in numbers, spirit and dollars raised and had their biggest season yet, culminating in last week's GW Parkway Classic 10-Miler and 5K in Alexandria.
"LLS is an amazing organization, and is truly having an impact on the lives of cancer patients everywhere," said O'Brien. "The opportunity to give back and raise funds for this organization, while rallying my friends and family to get involved has been life-changing. Blood cancers affect so many individuals, and have been a part of my life long before I was diagnosed myself. Through programs like Team in Training, LLS is leading the way towards cancer cures, and I'm thankful for the role Team LOL has played in advancing treatments for patients that need them."
Team in Training (TNT) is LLS' flagship fundraising program and the only endurance sports training program for charity that raises money for blood cancer research. For more information on upcoming events, or to sign up, visit www.teamintraining.org.