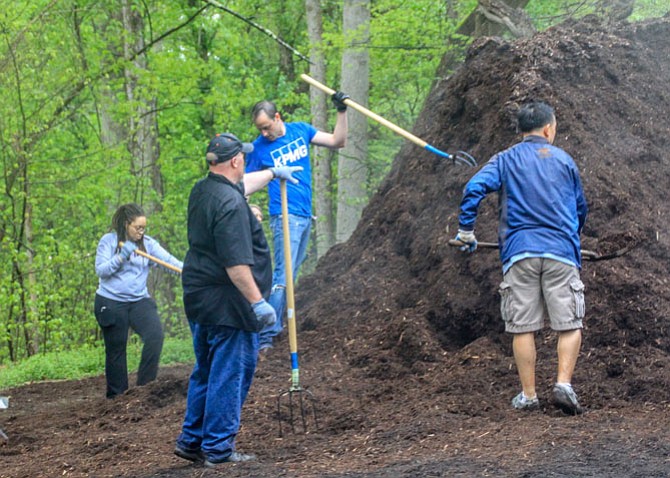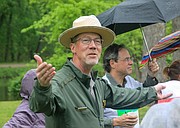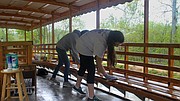 On a rainy and cold Saturday, April 23, more than 100 volunteers braved the elements for Canal Pride Day at the C&O National Historical Park at Great Falls. This event was sponsored by the C&O Canal Trust. The volunteers were welcomed and thanked for their service by Superintendent Kevin Brandt and Councilman Roger Berliner. U.S. Rep. John Delaney's aide Kevin Mack presented C&O Canal Trust President Robin Zanotti with a Certificate of Special Congressional Recognition. This year's event has special significance as the National Park Service celebrates its centennial and prepare for their second century of service.
After the welcoming ceremonies, the volunteers dispersed to their clean-up and beautification tasks. They cleaned up the Historic Great Falls Tavern, the Mercer Canal Boat, planted flowers at the fee booth and mulched around the parking lots and picnic areas.
The park benefited from the work of the volunteers — and the giant and red pandas at D.C.'s National Zoo also enjoyed their dedication. The Smithsonian's William Clements picked up the bamboo removed from the park and delivered it to the National Zoo for the pandas to munch on.
The C&O Canal National Historical Park is the ninth most visited park within the National Park System. It welcomes over 5 million visitors a year — more visitors than signature parks like Yellowstone, Yosemite, or the Grand Canyon host in a year. The C&O Canal Trust works in partnership with the C&O Canal National Historical Park to raise funds and resources to support maintenance and visitor programs in the park.