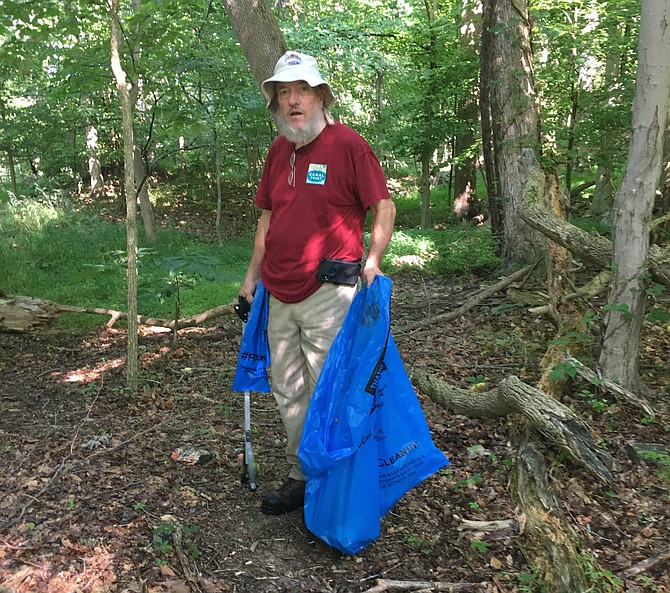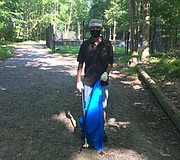 Potomac resident Allen Gorrelick runs along the path above the C&O Canal near Angler's Inn about three times a week.
He was more than happy to be among the volunteers picking up trash along that stretch of the park on Saturday.
"I use this path all the time," he said. "I have to give something back."
The C&O Canal Trust, the non-profit partner of the Chesapeake & Ohio Canal National Historical Park, sponsored the clean-up July 11 after cancelling its usual Spring Canal Pride clean-up events because of the Coronavirus pandemic.
"We generally have Canal Pride in the Spring, focusing on projects," Rod Newton, Volunteer and Program Coordinator for the Trust, said. "Right now, we are focusing on trash only. It's easier to social distance."
Newton said about 50 people signed up for Saturday's clean up. To conform with public health regulations around COVID-19, volunteers were divided into small groups of no more than 10.
The project covered the towpath from Fletcher's Cove to Billy Goat Trail A, below Great Falls. Working in their assigned teams, the volunteers met, received their trash bags and grabbers and spread out to gather trash left by the park's visitors.
All together the group filled 45 large plastic bags with trash – more than 400 pounds.
"It's more trash than usual; the park is getting a lot more use," Newton said.
Volunteers were asked to follow extra precautions while in the park to help. They had the following list for a guide:
Masks are highly encouraged for all staff and volunteers while volunteering in the Park. Gloves are required.

Keep a social distance of at least 6 feet between participants not living in the same household.

Anyone not feeling well should not enter the Park or participate in any Park-related programs.

Participants must supply their own gloves, close-toed shoes, water bottles and water, snacks/food (as needed), and facial coverings (if desired).

Tools such as garbage bags, rakes, shovels, etc. will be provided by the C&O Canal Trust.
Canal Trust President Robin Zanotti said the Canal Pride project concentrated on trash pick up because the Park saw a 50 percent increase in visitors during the quarantine.
"That influx of visitors resulted in a lot of litter in the Park, and we are excited that we can now get volunteers out to pick up this trash," she said.
Volunteer Dan Ramsey was happy to help. He lives in Clinton and, though he does not use the park often, he said he has been helping on Canal Pride days for years.
"I enjoy it," he said. "It gives you a good feeling."
Another Clean-up is scheduled along the western end of the Park on Saturday, July 25 from 9 a.m. to noon. To register visit https://www.canaltrust.org/.
Diversity, Equity and Inclusion
The C&O Canal Trust Board of Directors approved a Board Resolution at their June meeting affirming the Trust's commitment to the principles of diversity, equity, and inclusion. Although the statement had been in the works for months, its passage now – as the nation reckons with its history of racial inequity – underscores how imperative it is that we continue to integrate these important principles into all facets of our organization.
Our Canal For All program, which focuses on connecting African-American and Latinx communities in Montgomery County with the C&O Canal National Historical Park, began in 2016 as a concerted effort to bring traditionally underrepresented audiences out to the Park to work, play, learn, and serve.
This program thrives on partnerships with organizations who work with youth of diverse backgrounds, including Identity, an organization that provides opportunities for Latinx and other historically underserved youth to reach their highest potential, and Community Bridges, which empowers girls from diverse backgrounds to become exceptional students and leaders. Through Canal For All, youth from these organizations have participated in a variety of activities in the Park, including Latino Conservation Week, bike rides on the towpath, educational hikes around Great Falls, stays in Canal Quarters lockhouses, and clean-up activities as part of Canal Pride.
Thanks to funding from the Montgomery County Council, a Conservation Jobs Corps (CJC) program was added in the summer of 2019 in partnership with the Montgomery County Department of Recreation's TeenWorks program and the Maryland Department of Natural Resources. This program allows teens to work alongside National Park Service staff to preserve the C&O Canal's assets and learn job skills.
Besides continuing our work in diversifying our programs, the new Diversity, Equity, and Inclusion Resolution calls for an organizational culture welcoming to all people and calls for the formation of a Diversity, Equity and Inclusion Advisory Committee that will guide the Trust's progress towards these ideals.