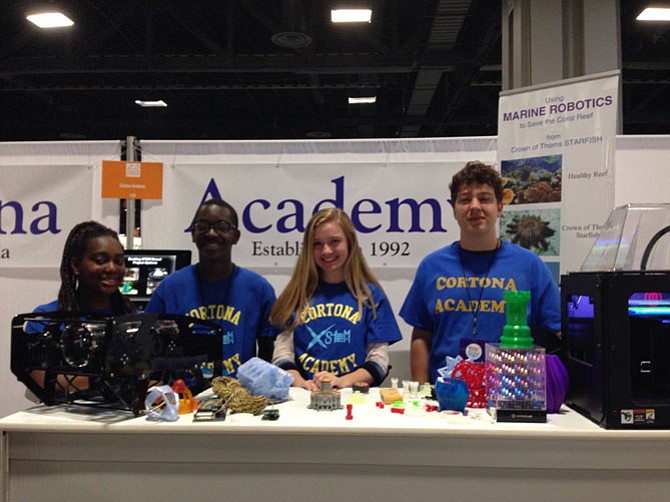 Students from Cortona Academy in Herndon built an underwater robot to help save the coral reefs by removing an invasive species of starfish. The students from Cortona's Science, Technology, Engineering and Math (STEM) class displayed the underwater robot recently at the 2016 USA Science and Engineering Festival in Washington, D.C.
"We created a robot meant to save coral reefs by attacking the invasive species harming it," said 18-year-old Araba Dadzie of Alexandria. She explained that the drone is designed to find the invasive Crown of Thorns starfish and inject it with a natural vinegar solution.
"The main thing that shocks people is that this particular starfish in a weekend can destroy a coral reef that has taken 20 to 30 years to grow," said Cortona Director Sharon Strauchs. "This robot that the students designed is something that has a practical and important humanitarian application."
At the Science and Technology Festival, the school displayed an extensive array of technological devices for students, families and other attendees to investigate. In addition to the underwater robotics project, students demonstrated some of the technology used by the STEM class, including premium quality 3-D printers which could be used to print the components of an underwater robot. This would enable schools and families who have a 3-D printer to join the worldwide movement to save the coral reef by printing the robot components at a much lower cost than purchasing them.
Cortona Academy, located at 13505 Dulles Technology Drive in Herndon. For more information on Cortona Academy, visit www.cortonalearning.com, or call 703-464-0034.