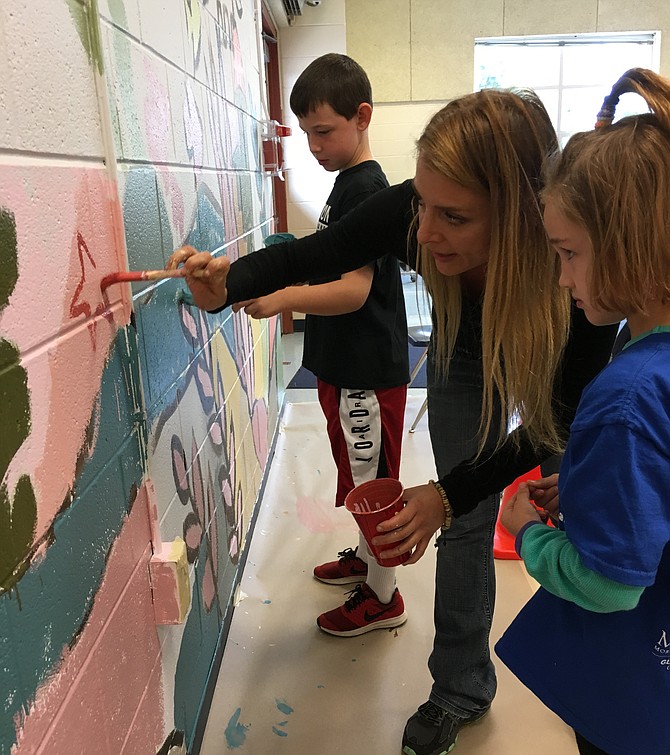 A world hidden beneath the ocean waves comes to life in the cafeteria at Floris Elementary School in Herndon, after the entire student body of 830 students, kindergarten through 6th grade, painted a gigantic underwater mural the week of Oct.15-19, 2018.
Led by former Floris student turned Artist-in-Residence Sarah Bleiweis, the children unleashed their artistic creativities, painting real and fantastical marine species. Principal Gail Porter said PTA volunteers and school staff helped make the project possible, assisting and participating as needed.
"It took a lot of planning, creativity and collaboration to create such a wonderful backdrop for our cafeteria. I think students will remember this for a long time," said Porter when describing the process of creating the floor-to-ceiling collection of colorful seaweed, coral reefs, schools of fish and whales.

Student artwork, completed the week before, inspired the design of the ocean mural, explained Bleiweis. The students also learned the mantra, "Everything takes practice," during the two-part, yoga-art mural workshop Bleiweis led.
"Students chose one ocean plant or one ocean animal to paint the color of their choice," said Bleiweis.
"I thought painting the mural was really interesting," said Safiyya Hawa, 10. "I painted some seaweed and a crab."
In describing the mural in greater detail, Porter called it a game of hide-and-go-seek with imagination. "The viewer sees a sunken ship, a treasure chest, and then notices an obscure half-cat and half-mermaid fusion, a 'purr-maid' that students requested be included in the mural design," she said.
Floris Elementary School is part of Fairfax County Public Schools and is located at 2708 Centreville, Road, Herndon.