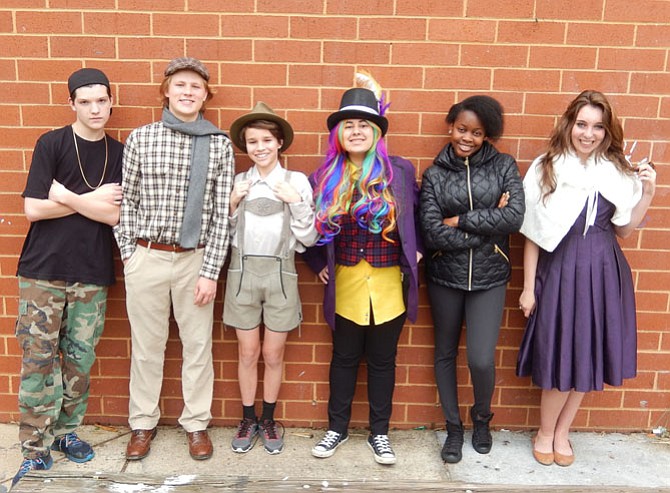 Willy Wonka, Charlie Buckett and a fleet of Oompa-Loompas will all burst upon the stage during Chantilly High's upcoming children's play, "Charlie and the Chocolate Factory."
The curtain rises Friday, May 20, at 7 p.m.; Saturday, May 21, at 2 and 7 p.m.; and Sunday, May 22, at 2 p.m. in the school theater. Tickets are $5 at the door or via www.chantillyhsdrama.com.
Wonka owns a chocolate factory and offers tours of it to whoever can find the golden tickets hidden in Wonka chocolate bars. A motley assortment of spoiled children finds them, as does a sweet, little boy named Charlie.
Chantilly's show features a cast and crew of 45 and some of the roles are double-cast. And in this version, Willy Wonka is female. "It's such a fun show and one of my childhood favorites," said Director Shannon Khatcheressian. "I read the book countless times growing up, so I was excited to get to bring it to life onstage."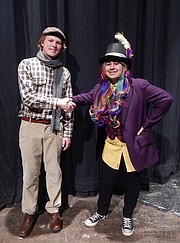 She said her actors are doing great because "they know the story and are excited about playing those characters. So they've brought a wonderful level of energy and enthusiasm to their roles. And I love the fact that this show will appeal to all ages. The scenes take place in the Bucket household, inside the chocolate factory and outside the factory gates. An artist is providing beautiful, animated scenery via projections, and the audience will get a kick out of seeing the chocolate river actually moving."
Furthermore, said Khatcheressian, "The bright and colorful costumes will reflect the zany characters. And the Oompa Loompas will tell their stories via shadow play, which gives us more artistic freedom."
Sophomores Annie Silva and Emily Fareid play Wonka. "She's very eccentric and excited about her work," said Silva. "From the outside, she seems like a crazy person, but she's really just passionate about her chocolate company. She's goofy and funny, and sometimes a little scary to the kids who are annoying. But she's sweet to Charlie, who's the kind kid."
Silva loves her part because "Wonka makes such large, physical movements and gesticulations. And she has a lot of funny one-liners that I think the audience will really enjoy. It's also exciting because it's a role I've known and loved my whole life. And it's my first lead, plus there's a good ensemble cast, and it's nice to get support from them onstage."
She said the audience will also like the show's "cool, technical aspects, making projections onto the stage to set the scenes. It's a classic story and kids will really enjoy it. The plot also has great heart and shows a good kid finally getting what he deserves."
Portraying Charlie, 11, is sophomore Caleb Mitchell. "His family is poor, but Charlie's positive and doesn't get into any trouble," said Mitchell. "He's also friendly and optimistic."
Mitchell said it's fun playing a young child because he gets to "act like a kid. I also interact with all the characters. It's nervewracking playing the lead because there's so much to memorize. But I honestly love acting and am happy to get to be the main character in a movie I grew up watching."
He said everyone in the cast is having fun and the actors make the show "cool and interesting. It's a story familiar to the audience and people will really like seeing it."
Sophomore Javier Leon plays Charlie's Grandpa Joe. "He's enthusiastic about absolutely everything," said Leon. "When everyone else looks at something from a near-death experience, he finds the light in it. He's excited about life and is a kid at heart."
Leon, too, is enjoying his role because, "Although Joe is the grandpa, it still feels like he won a golden ticket, as well. He does a lot of fun, crazy, unexpected things and is always wishing for the best."
He said the audience will like the actors and the show will be "a lot of fun for the kids. There are a lot of goofy jokes, and kids will feel like they're actually there in the chocolate factory because they'll be seeing it right in front of them."
Sharing the role of Veruca Salt are sophomores Alayna Lee and Caroline Woodson. "Veruca is the epitome of all the bratty children who find the golden tickets," said Woodson. "She wants what she wants; and if she doesn't get it, she's going to throw a tantrum until she does. She's very determined and knows where she's going, but she doesn't always act on it in the right ways."
"I really like playing her," continued Woodson. "I've typically portrayed nice and happy characters, so it's fun to play something different. I get to go absolutely over the top; and because it's a children's show, I can be as bratty as I want and don't have to worry about overdoing it."
She said the audience will enjoy "the variety of characters — kids from every background they can relate to. And the moving projections will help absorb the audience and make them feel more immersed in the show."