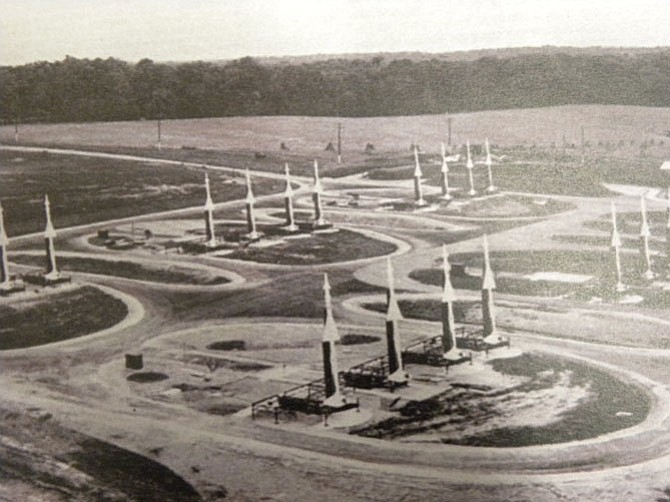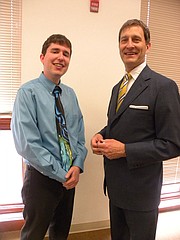 The first of three Forgotten Fairfax series debuted on Saturday, May 7 at the City of Fairfax Regional Library. The topic was steeped in Cold War history -- the Nike Missile and gun sites that dotted the landscape of Fairfax County from the '50s to the '60s, which were installed to protect Washington, D.C. from Soviet air attacks.
Dr. Christopher J. Bright spoke to a full room about three Nike-Ajax missile and six gun sites. The missile sites were located in a dairy farming area east of Herndon that is now Great Falls; in central Fairfax County, southwest of the City of Fairfax; and on property owned by the Lorton prison.
The sites that held 90 mm and 120 mm anti-aircraft guns were located in Langley, now part of the Federal Highway Administration and CIA; Hunting Ridge and McLean, near the intersection of Margarity and Toll roads; Vienna, north side of I-66; Franconia, now Key Middle School; Hybla Valley, now Huntley Meadows Park; and Fort Belvoir, now the playing field of Walt Whitman Middle School.
Bright's presentation included slides which overlaid aerial photographs of the sites with a current street map, which shows how Fairfax County has evolved from mostly farmland to its present communities.
ACCORDING TO BRIGHT, the sites were located in rural areas that were not very populated. However, some land belonged to already established farms.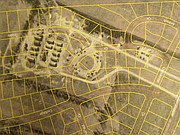 Bright also said that local leader and dairy farmer Mark Turner did not want to give up dairy land to the government; and in order to build the Herndon site, now in Great Falls, the government acquired part of Turner's land by condemnation -- the formal act of exercising eminent domain.
Some attendees remember playing, as children in the remnants of these sites after they were dismantled. Three people raised their hands when someone asked if there were people in the audience who served in these types of military installations. Rick Blankenship, of Vienna, was in the Army Air Defense in the Federal Republic of Germany; he was stationed in a similar site. "It was pretty scary from the standpoint that the Soviets were just miles away," he said.
The Fulda gap is the defining gap where they would meet Soviet forces on the line. "For the aircraft, we were fairly close. It wouldn't take them hours to get to our location, as they would if they were coming to the United States, it was minutes," said Blankenship.
Wayne Jordan, of Fairfax Station, grew up in Maryland and remembers the feeling of growing up during the Cold War. He remembers people being worried about missiles coming from Cuba and how "they were saying everybody was storing food in the basements." He also remembers having to do "those ridiculous drills in school, as if they were going to make any difference."
TWO MORE Forgotten Fairfax talks are scheduled for the summer. Debbie Robison, a preservation consultant, will talk about Fairfax County's forgotten mills and locating historic mill ruins on Saturday, June 4.
On Saturday, Aug. 6, Heather Bollinger, assistant archivist at the Fairfax Circuit Court Historic Records Center, will present how work creating a slavery index from county records.