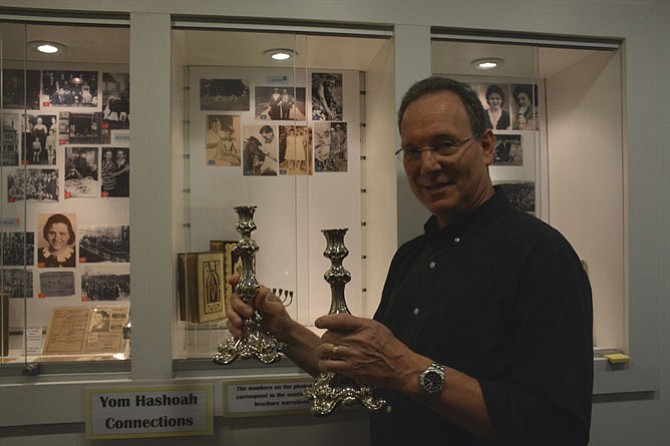 Fairfax resident Frank Kohn's family heirloom silver candlestick holders never should've made it out of Berlin.
Nine days before the Nazis closed the border in October, 1941, the family of Kohn's mother Ruth was headed to the Dominican Republic, where many Jewish people were seeking refuge. All bags leaving the country were being inspected to make sure they contained nothing valuable.
But as the 100-plus-year-old heirlooms had come from Kohn's great-grandparents, they were packed anyway. Kohn delicately handles the sticks as he recounts the story of a German inspector checking the family's bags.
"He said, 'These are tin," Kohn recalled with a proud smile, placing them head to tail, side by side, back in an imaginary duffel bag.
The silver candlestick holders are among the few artifacts and primary sources of information Kohn has for his extended family in Germany and Austria. For the next month, and the first time ever, it's all on display near the lobby of Temple B'nai Shalom in Fairfax Station.
MAY 4 AND 5 marked Yom Hashoah, a day of Holocaust remembrance in the Jewish faith. Last year at this time, several members of the temple's Children of Holocaust Survivors support group gave talks to the congregation about their experience. This year, they decided to pull together artifacts and photos from seven families and showcase them for the temple membership.
For many like Fairfax Station resident Julia Salpeter, these photographs, documents and other items are their only link to their families' lives before and during the war.
Salpeter's collection includes a letter in Hungarian, typed on government letterhead, she found in a family safety deposit box. The brief text explains her father Jeno Illes has been discharged from the forced labor camp "munkasolgalat." His wife and son had been deported to Auschwitz, where they died.
For a long time, Salpeter's only knowledge of her half-brother George Izsak was from a plaque with his picture on her parents' dresser.
"My parents never talked about the Holocaust," she said, "and we were raised to never ask."
In fact, Salpeter's mother Irma (Jeno's second wife) participated in Steven Spielberg's 1996 project interviewing Holocaust survivors. But she never shared her story with Salpeter until handing over tapes of her interviews in 2006.
"'Finally, I have to do this,'" Salpeter remembers her mother saying.
For Kohn, growing up in New Jersey in the 1960s, his parents did talk about the Holocaust, making up for its absence in school textbooks.
Exploring their common thread is the mission of the Children of Holocaust Survivors support group. The group meets four times a year to discuss questions posed by Senior Rabbi Amy Perlin.
"They'd never discussed with peers what it was like to grow up with this," Perlin said. "I bring a topic, they all share... to watch their eyes… their common thread surprises them. It's all they have."
Kohn describes himself and other children of Holocaust survivors as being "wired differently."
"What we observe on Yom Hashoah, I have it every single day of my life," he said.
Perlin said the children of survivors take on a responsibility of preserving not just their family's sacred history, but the Jewish identity as well. "They are the first-line storytellers," she said.
PART STORYTELLING, part community-building, part catharsis: Members of the support group spent six emotional weeks together assembling the Yom Hashoah display.
"It just came alive," Kohn said, "It was very personal for all of us."
"These children want to educate future Jews," Perlin said. "A systematic mass extinction of this magnitude, thank God, has not happened since this time. And even in their hour of exile, their parents wanted to preserve their Judaism."
Kohn's mother lives in Greenspring Village and is one of two Holocaust survivors in the B'nai Shalom congregation. Salpeter's mother Irma died at 94 in November 2014.
Before she told her daughter her story, Irma opened up to Rabbi Perlin. "We sat on her balcony in Fairfax Station," Perlin said, "and I was in Auschwitz."
"We remember this history, and hope it never happens again."