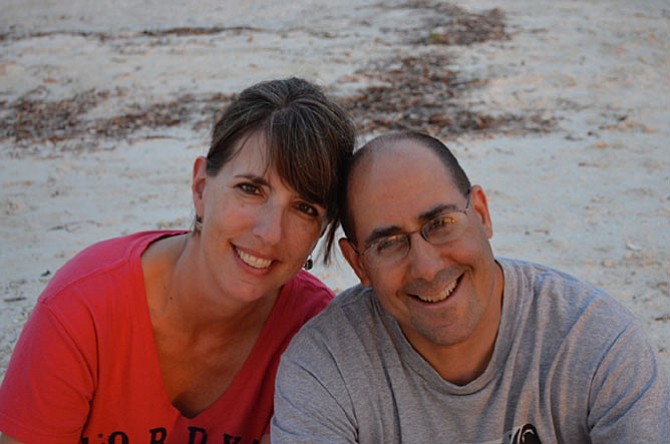 Scott and Marcy Burka are Arlington's Foster Parents of the Year. In addition to their three birth children, they've provided five long-term placements, including two sibling groups of three. Scott Burka works in real estate and Marcy Burka is an accountant.
The Burkas were nominated as "Foster Parents of the Year" because they excelled at "Bridging the Gap" with birth and adoptive families and advocating for fostered children's medical, educational, social and family needs. When they fostered a child with significant medical and developmental needs, they took the lead on identifying providers, scheduling appointments and ensuring quality services, enabling the child to make progress while with them.
In a recent interview, they acknowledged they had some doubts about fostering at first.
How long have you been foster parents?
We have been fostering for 6 years.
What made you decide to become a foster parent?
We had a desire to help our community. Our friends, the Simons, had just completed training and had their first placement. They were so excited and around the same time the movie "The Blind Side" came out. Those three things combined started us on this journey. After that we decided to go check out the information session. And then we decided to sign up for the training. Each week as we drove home from the training session having learned a new aspect of what was involved with being a foster parent, we would quiz each other as to whether we were having second thoughts and whether we would go to the next class. Every week we said, "We can always say no." But each week, we came back.
Any particular experiences that stand out or you will always remember?
Our second (and third) placement was a sibling group of three. We had the two older siblings for six months before they went home to their mother. When a third sibling came along, the birth mother asked Marcy to be with her in the delivery room because she had no one else for support. Marcy said yes. Six months later, all three children came back into our care and the mother asked Marcy: "If the county terminates parental rights, would you adopt them?" Fortunately, it did not come to that. They are back with their mom and are doing really well. We talk to them on a regular basis and are hoping to go and visit them this summer.
Is there anything in particular that you try to teach foster children while they are with you?
The importance of education, knowing they are safe and loved while with us.
What has becoming a foster parent taught you?
Being a foster parent has taught us to try and not judge people and how many children just need a fair chance.
Tell us about your experience with Arlington Foster Care/Adoption Program.
Arlington Department of Human Services has been wonderful. From the training sessions they offer, to the monthly support group for foster parents, to amazing social workers that go out of their way to help the kids.
How have you worked the transition for a child that has been adopted?
We have had only one adoption. The adopting family was very open and we worked hard with them to make the transition. We invited them to the beach with us for a weekend, had meals together and worked together to make the adoption positive. The adoptive family has invited us for birthdays and even invited us to the formal adoption signing. It was a very special day. We are fortunate to still be in touch with the family and we get to see them regularly.
Tell us about your experience working with birth parents, how have you dealt with challenges when working with birth families?
Our experience with birth families has run the gamut from very negative, to resentment, to love and friendship.
What would you say to others who are considering becoming foster parents?
So many people don't truly know what fostering means. They commonly think of it as adoption. They think they can't do it. There is so much flexibility with fostering, whether you do respite only, take multiple children placements or simply are looking to adopt, fostering can be all of those things. In the end, if you're interested, you should "just do it."
May is Foster Care Awareness Month. For more information on becoming a foster parent in Arlington, call 703-228-1550 or contact: openheartsopenhomes@arlingtonva.us. The next information session for prospective foster parents is on June 1 at 6:30 - 8:30 p.m.