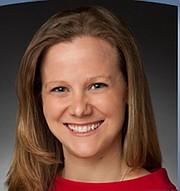 Bringing their combined education, expertise and experience in the fields of nutrition and exercise to Potomac residents, Jessica and David Murgueytio are the featured speakers at Potomac Community Village's (PCV) June 23 meeting. Their presentation, "Eating and Exercising for Vitality — How Our Needs Change Throughout Our Lives," highlights two key aspects in healthy aging: how one moves and what one eats.
Specializing in weight loss and diabetes management to enhance aging and vitality, Jessica Murgueytio is a registered dietitian and certified diabetes educator with bachelor's and master's degrees in clinical nutrition.
David Murgueytio specializes in corrective exercise and performance enhancement and focuses on functional movement patterns, strength and conditioning.
Jessica Murgueytio currently practices at Bethesda Medical Associates and is an adjunct professor at George Mason University. David Murgueytio is a certified personal trainer at Lifetime Athletic in Rockville and continues his studies in exercise physiology.
PCV's June 23 meeting takes place from 7-9 p.m. at the Potomac Community Center, 11315 Falls Road, Potomac. The program is free and open to all, but donations are accepted.
Potomac Community Village is a non-profit member network of neighbors and friends geared to enhancing the quality of life for older Potomac residents by creating social connections and providing services such as transportation, computer assistance and simple home repairs. For more information, to volunteer or to get volunteer help, contact info@PotomacCommunityVillage.org, 240-221-1370 or visit www.PotomacCommunityVillage.org.