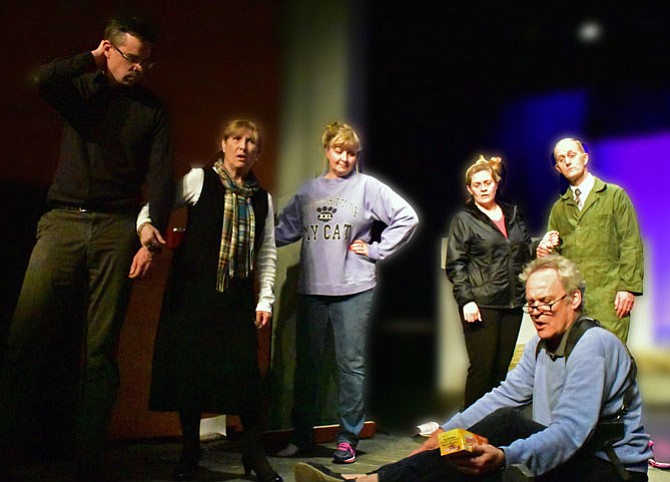 Where and When
Providence Players present "Red Herring" at James Lee Community Center Theater, 2855 Annandale Road, Falls Church.
Performances: June 3-18. Thursday, Friday and Saturday evenings at 7:30 p.m. Sunday matinees June 5 and 12 at 2 p.m.
Tickets: $17-$20. Call: 703-425-678 or visit http://www.providen…">www.providenceplaye….
Just in time to help divert an audience to escape from the real world comes "Red Herring" from the Providence Players. "Fast-paced, exciting and a gas of a comedy" is how veteran director Beth Hughes Brown describes the priceless, calculating escapades of "Red Herring."
Providence Players Board President Jayne Victor called award-winning Michael Hollinger's "Red Herring" a "smart, very funny play. We know that audiences will laugh. Director Beth Hughes-Brown always makes audiences laugh, but we also hope patrons appreciate and enjoy the underlying love stories in the play and the spoofing of 1950s cold war era American culture."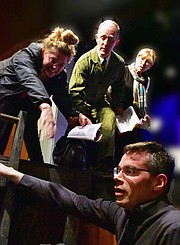 The production will romp through many a red herring of clues each trying to throw the audience off the trail of possible spies who may be trying to provide nuclear secrets to America's enemies. There will be snappy dialogue and plenty of accents to go along with the show's head-spinning twists and turns.
With all its false leads, there are key details that cannot be overlooked that add more diversion. "Red Herring" is a comedy with three unlikely caring comical couples and nearly two dozen characters played by only 10 actors. The characters and situations are written to intentionally mislead the audience.
The show's characters run the gamut from a tough-talking FBI agent, a skilled lady detective, the naïve daughter of Senator Joe McCarthy and the Russian spy who loves her. There is also a middle-aged Boston fisherman, or he is more than just a fisherman, as well as another G-man and the woman who loves him. Then there are even several characters who are not only masters of physical comedy but even sing.
The Providence Players are known for very detailed set designs. Chip Gertzog, a designer for "Red Herring" indicated that the production will have "multiple settings, 24 very fast paced scenes and farcical timing." For this show the Providence Players also plan to use projections "to help set the mood, place and pace of the show."
Inviting audience to the show, Beth Hughes-Brown indicated "'Red Herring' is a show for those who enjoy Mel Brooks, the Marx Brothers and great fun. It will leave the James Lee Community Center Theater audience wanting to come back a second time to see what they missed when they were laughing so hard the first time."

Be ready for it: "'Red Herring' will have you in stiches," promised Gertzog.