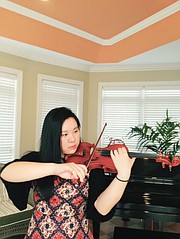 Centreville — Michelle Li, a Centreville native, will travel to the University of South Carolina, Columbia, S.C. in January to compete as a Division Finalist in the Senior String Competition.
Li, the daughter of Yan and Emily Li, earned the opportunity after winning the Virginia Division of the Senior String Competition. A sophomore at Centreville High School, Li has been studying violin for seven years after two years of studying piano and is currently a student of Amy Beth Horman.
Li also participated and performed in masterclasses with professor of the Juilliard School Shirley Givens, professor of University of Maryland James Stern, concertmaster of the National Philharmonic Orchestra Jody Gatewood, concertmaster of Baltimore Symphony Orchestra Jonathan Carney and music director of Edgewood Symphony Orchestra Roy Sonne. After placing second at the American Protégé Competition when she was 11, she performed at Carnegie Hall. In the spring of 2015, she was awarded third prize as a finalist in the Landon Symphonette Competition where she performed in a live final event with the orchestra. This spring Li was selected as one of the soloists to appear on the Rising Stars Series at the Alden Theatre.
Besides school orchestras where she was awarded Director's Award for Orchestra, she participated in the Centreville Area Honor Orchestra, Oakton-Chantilly Area Orchestra, Junior/Senior Regional Orchestra as concertmaster/assistant concertmaster as well as All-Virginia Orchestra as 2nd violin and AYPO as 1st violin.