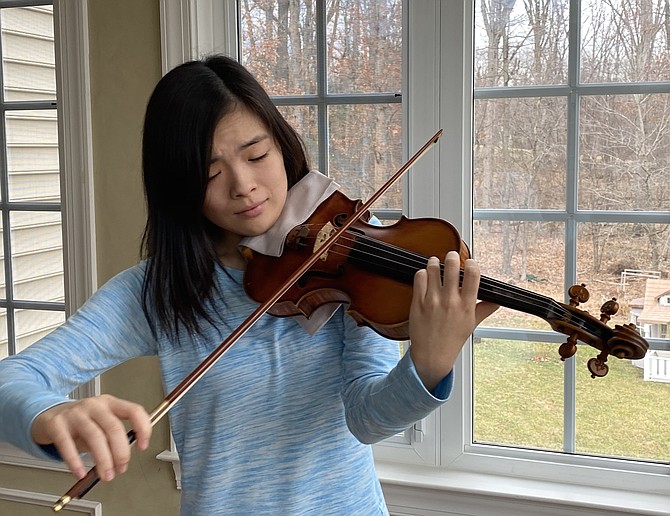 Fifteen-year-old Kayleigh Kim of Oak Hill, a student at Oakton High School in Vienna, started playing the violin when she was five, but quickly lost interest and began focusing on other activities like sports. "I played on and off for about three years until I quit completely. My mom asked me when I was ten if I wanted to play the violin again, and I said yes, not thinking about it very much. It was only after playing for a few months that I realized I really did enjoy it."
Since then, Kim has performed at Carnegie Hall, the Kennedy Center Millennium Stage, Merkin Concert Hall, and most recently with the Richmond Symphony Orchestra on Jan. 25. Kim always dreamed of participating in the prestigious Menuhin Competition, dubbed the "Olympics of the Violin." This year, Kim will be in there alongside forty-three of the world's greatest violinists, ages 8-21 representing eighteen different nationalities. Amidst the limelight and stimulating learning environment, Kim will take to the stage to compete in the Junior Section.
KIM'S TEACHER, Catherine Cho, Professor of Violin at The Juilliard School, said, "I am delighted to be working with Kayleigh, who has been a wonderfully dedicated and compassionate member of my studio this year, and we are all excited about her participation in the Menuhin Competition this spring."
Held in the United States for only the second time since the Menuhin Competition's inaugural event in 1983, Richmond won the joint bid. They beat out London, England and Melbourne, Australia to host the 11-day event to be held May 14-24, 2020. A coalition headed by the Richmond Symphony with co-hosts Commonwealth Public Broadcasting (WCVE), Virginia Commonwealth University, and University of Richmond, with an endorsement from the City of Richmond, submitted the bid.
The Menuhin Competition Trust organized the event. It is a UK registered charity. The competition brings the most outstanding violin talents together in a festival of music, education and cultural exchange. Such is a nod to founder Yehudi Menuhin; the New York City-born violin prodigy opened a violin school for gifted musicians ages 8 to 19 in England in 1963. According to the Trust: "Menuhin's key to success was his excellent music education as a child and his ongoing dialogue and collaboration with fellow musicians."

BEYOND THE COMPETITION, participation and learning are a unique aspect of the Menuhin Competition. Jurors perform during the event, and competitors participate in master classes and consultations with the jury. Peer-to-peer learning is equally important. Also, as part of the 2020 Menuhin Competition, Kim will take part in events held throughout Richmond, icluding the Modlin Center for the Arts-University of Richmond, W. E. Singleton Center for the Performing Arts- Virginia Commonwealth University and Carpenter Theatre@ Dominion Energy Center. "Kayleigh has always been very focused on her work, and I am so proud of her for always accepting challenges that come her way," said Kim's mother, Sylvia.
The Menuhin Competition Trust aims to support its laureates as they develop and grow to help them establish their careers. Beyond the cash prizes and loans of violins, such as 1st Prize, Senior Section – USD 20,000 plus a 2-year loan of a Golden Period Stradivari violin from the private collection of Jonathan Moulds CBE and a bow made by Christopher Landon, the Trust offers prizewinners performance concert opportunities, scholarships and courses.