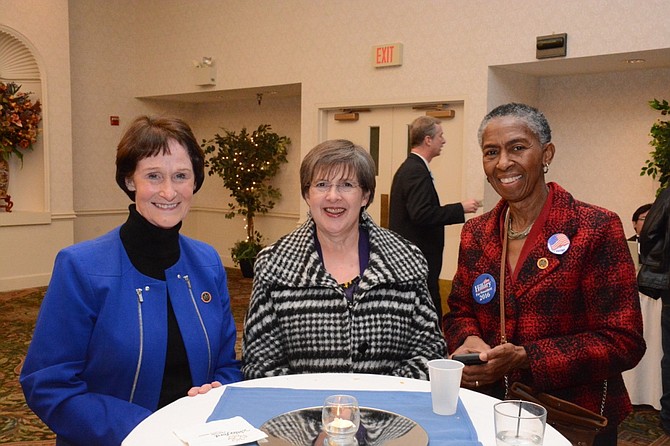 Unofficial Election Results
Source: http://results.elections.virginia.gov/
President
Virginia Results
Hillary Clinton (D) 1,904,700 49.46%
Donald J. Trump (R) 1,722,045 44.72%
Gary Johnson (L) 115,330 2.99%
Evan McMullin (I) 52,538 1.36%
Jill Stein (G) 27,138 0.70%
Fairfax County Results
Hillary Clinton (D) 354,486 64.41%
Donald J. Trump (R) 157,547 28.63%
Gary Johnson (L) 15,649 2.84%
Evan McMullin (I) 10,366 1.88%
Jill Stein (G) 4,551 0.83%
U.S. Congress
Member House of Representatives (08)
Donald S. Beyer Jr. (D) 245,775 68.36%
Charles A. Hernick (R) 98,123 27.29%
Julio Gracia (I) 14,617 4.07%
Member House of Representatives (11)
G. E. "Gerry" Connolly (D) 233,552 87.65%
Write-in 32,922 12.35%
Unopposed
Fairfax County Meals Tax
No 286,543 53.69%
Yes 247,139 46.31%
With final numbers still coming in from around the country, Republican presidential candidate Donald Trump carried a strong lead early Wednesday morning over Democrat opponent Hillary Clinton.
In the Commonwealth of Virginia, however, the former first lady, U.S. senator and secretary of state picked up a victory over Trump. According to Virginia Department of Elections unofficial results, Clinton carried Virginia with 48.2 percent, 1,742,105 votes, to Trump's 46 percent, 1,662,777 votes. Libertarian Gary Johnson received three percent of the vote, just over 109,000.
Fairfax County played a key role in that Clinton win, registering a 63.8 percent vote for Clinton over 30.3 percent for Trump.
Newly re-elected U.S. Rep. Gerry Connolly (D-11) attended a Democratic Party of Virginia event in Falls Church, hosted by Gov. Terry McAuliffe (D).
"In delivering Virginia for Secretary Clinton and Senator Kaine tonight," Connolly said in a statement, "Virginians sent a clear message that we will not tolerate the hateful rhetoric that sought to divide us."
But with Trump grabbing hold of multiple swing-states including electoral college heavyweights Ohio, Florida and North Carolina, he controlled a commanding lead over Clinton nationally going into the early morning. That was much to the surprise of many pollsters who had Clinton leading early in some of those battlegrounds.
"It's pretty clear there's a chunk of the electorate in the U.S. which is significantly alienated," said state Sen. Scott Surovell (D-36). "It's mind-boggling you could vote for someone who's an acknowledged sexual assaulter. The rest of world looks to our country to be a beacon of democracy — mature and responsible. Donald Trump would be harmful to how people practice politics in the U.S."
SUPERVISOR Pat Herrity (R-Springfield) said: "A lot of people are dissatisfied with government," he said. "In the end, the people have spoken."
In the U.S. House of Representatives' 10th District race, incumbent Republican Barbara Comstock defeated Democrat challenger LuAnn Bennett 53.3 percent to 46.3 percent.
Incumbent U.S. Rep. Gerry Connolly (D) in the 11th District ran unopposed and received 87.39 percent of the popular vote. Incumbent U.S. Rep. Don Beyer (D-8) was re-elected with more than 68 percent of the vote.
"I thank the voters of Virginia's 11th district for once again giving me their trust and sending me back to Congress," Connolly said in a statement. "I love what I do and I love representing the people of Northern Virginia. It's been the greatest privilege of my life."
Also on the ballot for Virginia voters were two Constitutional amendments, plus in Fairfax County, a referendum on the meals tax and a trio of bonds items.
The first amendment, known as "right to work," essentially ensures a citizen is allowed to work in a job without being required to join a labor union. That measure was voted down in Virginia 53.5 percent to 46.5 percent. Fairfax County went slightly further, voting it down with 55.8 percent of votes.
"I was very happy it didn't pass," said Del. Paul Krizek (D-44) who represents much of the Mount Vernon District of Fairfax County. "It shows Virginians don't like to mess with our Constitution. And unions are still quite respected by our electorate."
Question two, a property tax exemption for spouses of police officers and firefighters killed in the line of duty, passed overwhelmingly with 79.5 percent of the vote, or 2,575,064 votes.
The proposed Fairfax County meals tax was defeated by a margin of 55.8 percent to 44.2 percent.
MEALS TAX referendum would have allowed Fairfax County supervisors to enact up to a four percent tax on prepared foods and beverages. Opponents called the tax regressive and said it would negatively impact more families than it would benefit. Supporters pointed to the 70 percent of revenue generated by the tax promised to go directly to Fairfax County Public Schools as the system struggles to find money to pay teachers competitively.
"It was an uphill battle from the start," Fairfax County Board of Supervisors chairman Sharon Bulova said from the Fairfax County Democratic Committee election night party at the Waterford at Fair Oaks. Bulova had openly supported the tax along with Fairfax County School Board chair Sandy Evans. "People are inherently, and historically, resistant to taxing themselves."
The last time a meals tax appeared on the ballot in 1992.
"People have spoken again," said Herrity, who was strongly against the proposal. "They're not ready for another $100 million tax on top of the $100 million we put on them earlier this year. ...
"This wasn't a Republican or Democrat issue," Herrity continued. "We need to grow our commercial tax base and spend more wisely. Just like 1992, it sends a message to the Board of Supervisors and school board we need to get the spending under control."
Krizek said it could be a long time before voters see another meals tax referendum on the ballot. "This was the year to do it," he said. "It was a very good grass roots campaign, but everyone had a different take on it, it wasn't really a unified message, that kind of hurt."
Supervisor Dan Storck (D-Mount Vernon) sat on the school board for over a decade before becoming supervisor. "It's going to be very difficult to make up that support in any other way, for schools' needs which are getting more challenging," he said. "I'm disappointed that other jurisdictions will continue to benefit from our restaurant-going, but Fairfax County won't benefit from their restaurant-going." Arlington, City of Alexandria, City of Fairfax, Town of Vienna and Town of Herndon have a tax on meals.
Each of three Fairfax County bond items passed with more than 60 percent of the vote, including transportation, parks and facilities, and human services and development bonds.
"People have always been supportive," of the bonds, Bulova said. "It's a reflection of our careful budgeting of debt service."
For more results, see results.elections.virginia.gov