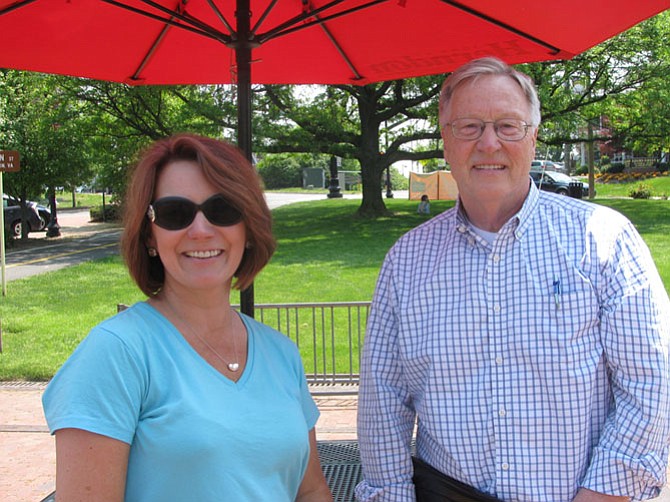 Herndon — Herndon Mayor Lisa Merkel won re-election last week from an engaged town of voters.
"The election was a great experience," says Merkel. "Seeing so many people out and excited to cast their ballots … the atmosphere was very positive and neighborly at each of the three precincts I visited."
In May 2014, Merkel won her election by 247 votes with only a 21 percent turnout of registered voters in Herndon. Last week's election was the town's first that was held in November.
The turnout was much better.
Merkel received 5,928 votes (nearly 68 percent) while her challenger, Town Councilmember Jasbinder Singh, received 2,786 votes (nearly 32 percent). There were also 37 write-ins, according to the Virginia Board of Elections.
The town of Herndon had 12,846 registered voters as of Nov. 1, according to the Virginia Board of Elections. That means 68 percent of the voters cast a ballot for mayor.
ON ELECTION DAY, William "Bill" McKenna arrived at the Herndon No. 1 precinct's polling location at the Herndon Elementary School on Dranesville Road at 5 a.m. and didn't leave until 7 p.m.
He said about 400 people were standing and waiting in line to vote when the poll opened at 6 a.m. He earned the votes of more than 4,700 voters to win a seat on the town council's next session.

"I was flabbergasted about how many votes I got," he says. "It's humbling and flattering all at the same time."
He says he thinks that many people took the local elections seriously and that the presidential election helped encourage people to come out because turnout had been low in previous years when the council elections were in the spring.
"Still, I had someone literally tell me, 'I'm not voting for anyone on council because I don't know anything about it,'" he says.
However, those who won, he says, did make an effort to tell people.
"The people that won, we went door-to-door," he says. "In years' past, you could go to certain houses and knock on their door because you knew that they would come out and vote. Now because [the fall election for town council] was a complete unknown, we had to canvas the entire town."
From walking around town, he said people began to recognise him. He knocked on more than 2,000 houses and said that he even lost weight because of the amount of canvassing he did in order to win his seat on the council.
"It's going to be harder to win elections because you have to get a plurality of people, but since it's harder to win, it's also going to be a more rewarding position," he says.
Merkel, who also canvassed, says that people were happy to see her at their doors and to talk with her about the direction the council was taking the town, including re-development plans that have been long in the making.
"We are excited to see our downtown plan come to life, and I'm pleased that my positive campaign resonated with so many," says Merkel.
The 4.6-acre, town-owned downtown redevelopment site has been planned and zoned for mixed-use development with multi-family, retail, restaurant and office, public and private parking and an arts center, but plans have been unable to get official approval for years.
Now that Merkel has another two years, she would "really like to get downtown off the ground," she says. The current council shared the "same big-picture goals," but the new council will need to vote and move forward with one of the plans that have been proposed and debated.
Conversations about the redevelopment began in 2000-- before Merkel was elected to any position with the town.
"I think that it will move forward," says McKenna. "You have a council that is very pro-business. I don't think anything will change on that."
THE CLOCK IS TICKING on other developments.
Herndon's new Washington Metro Area Transit Authority metro station is expected to be operational by 2020. While the station is visibly rising from the ground, the town will also need to implement a redevelopment plan for roughly 38 acres immediately north of the station.
In the meantime, Merkel says her election opponent graciously congratulated her. "I appreciate his service to the town," she says.
Although town tradition is such that the council-member with the highest number of votes is named vice mayor, that will ultimately be the decision by vote of the new council, so there is no official vice mayor designation at this point, says Anne Curtis, the town's chief communications officer.
The 2017-2018 mayor and town council --including new council-members Davidson, Friedrichs and McKenna-- will assume office on Jan. 1, 2017.
Town Council Election Results
The six town council-members elected for the 2017-2018 term, according to the Virginia Board of Elections, are:
Jennifer Baker with 5,650 votes;
Jeffrey Davidson 4,616 votes;
Signe Friedrichs with 3,959 votes;
William "Bill" McKenna with 4,764 votes;
Sheila Olem with 4,850; and
Grace Han Wolf with 4,977 votes.
Baker, Olem and Wolf currently serve on the 2014-2016 town council, while Councilmember Stevie Mitchell did not run for re-election. The incumbents who lost re-election are:
Connie Hutchinson with 3,918 votes;
David "Dave" Kirby with votes 3,377; and
Ronald Taylor with 2,486 votes.
There were also 681 write-ins, according to the Virginia Board of Elections.
More like this story