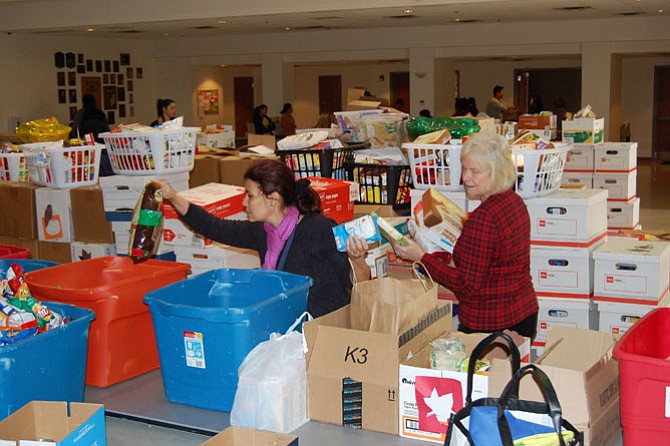 Fairfax Station — Five-hundred twenty-five households in southeastern Fairfax County were served a Thanksgiving food basket from Lorton Community Action Center, thanks to donations from the community and volunteers to organize the packing.
Faith organizations and other groups including Burke Community Church, Operation Peanut Butter & Jelly, Temple B'nai Shalom in Fairfax Station, Summit Church in Springfield, Sydenstricker United Methodist Church in Springfield and Pohick Episcopal Church in Lorton assisted in the program.
The Thanksgiving baskets were dropped off for distribution on Sunday, Nov. 20 at the Moose Family Center in Lorton.
"It would be impossible to help so many families without the efforts of almost 100 volunteers and the gracious hosting of the Moose Family Center," LCAC executive director Linda Patterson said in an email.
In addition to the Thanksgiving baskets, households also received produce and a gift card to purchase meat of their choice for the holiday's main meal.
LCAC is also running a winter coat drive similar to the Thanksgiving baskets. Clean, new and used coats can be dropped off at the Moose Family Center, located at 9612 Fernedge Lane in Lorton on Dec. 4 from 11:30 a.m. - 2 p.m. Alternatively, coats may also be dropped off from Monday, Nov. 28 through Saturday, Dec. 3 at INOVA HealthPlex Lorton, 9321 Sanger St. in Lorton. INOVA is open 24 hours a day, seven days a week. Enter the building through the Emergency Room door. INOVA staff will direct you.
For more information, visit www.lortonaction.org.