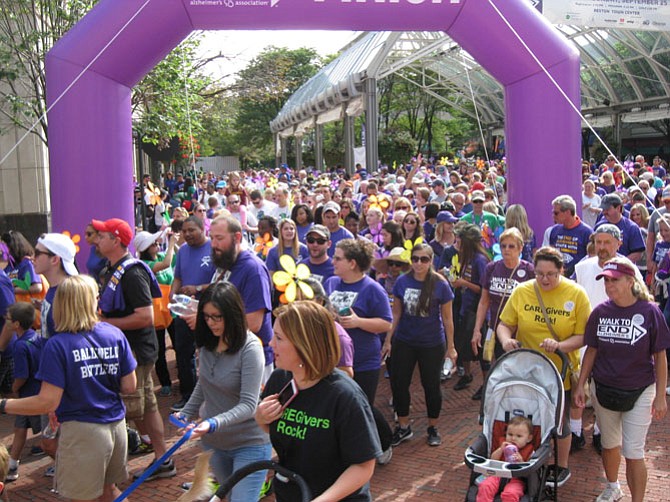 See more Walk to End Alzheimers photos on Facebook.
More than 1,000 walkers took part in the 2016 Walk to End Alzheimer's in Northern Virginia at Reston Town Center on Sunday, Sept. 25, 2016. The one-mile and two-mile walks around Reston Town Center generated $177,061 in revenue. It's part of seven walks throughout the metropolitan region over the month, raising a combined total of $1.6 million for Alzheimer's disease, which affects 5 million people in the U.S. The other walks are taking place in Bowie, LaPlata, Manassas, Solomons, Md., Washington, D.C., and Winchester.
"It was a big success; we had 20 percent more walkers than last year. More and more people are becoming more aware of Alzheimer's because more people are talking about it. Our local chapter works to raise money to do research for a cure. And we offer care and support for people with Alzheimer's and their caregivers," said John Christopher Broullire, Chapter President of the National Capital Area Chapter of the Alzheimer's Association.
"The walk is our biggest fundraiser of the year to raise awareness and to raise funds for Alzheimer's research," said Ana Nelson, Vice President of Programs and Services for the National Capital Area Chapter of the Alzheimer's Association. "The Alzheimer's Association has invested $375 million in more than 2,400 investigations in the life of our grants program. Since August of 2015, the association's active investments of $90 million have enabled 350 investigations in 18 countries."
The top three individual fundraisers for the Reston walk were: 1) Patty Schuebel with $7,720; 2) Brittany Bower with $3,875; and, 3) Nancy Rose with $3,175. The top three teams were: 1) Steps for Dad with $11,275; 2) Walkers for Miriam and Anita with $5,895; and, 3) Sterling Area Alzheimer's Support Group with $6,185.