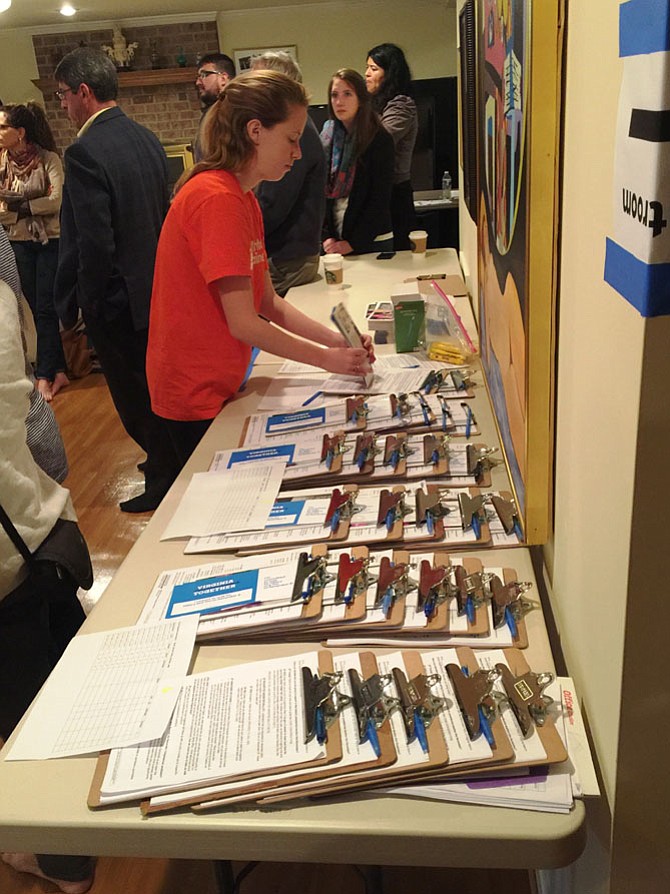 It's a few minutes before 9 a.m. Sunday morning, and LuAnn Bennett, the Democratic candidate for the 10th District Congressional seat, is sipping coffee in her stocking feet and greeting volunteers arriving at the Great Falls home of Mary Yang.
Bennett, a newcomer to politics seeking to unseat one-term incumbent Republican Barbara Comstock, appears comfortable and confident in her role as candidate.
Unfazed by the boisterous children sliding across Yang's spacious basement floor, Bennett is forceful when she addresses the crowd of shoeless volunteers (Yang's house rules) heading out to canvas Democratic supporters and make sure they turn out to vote on November 8.
She delivers a brief, energetic stump speech, touting her background as a small-business owner and working mom from McLean.

"I will bring those real-life skills to Congress," she says. "Somewhere along the line, elected officials stopped focusing on governing and started focusing on money. Governance has gotten lost in the shuffle and we need to get it back."
IN THE FINAL, frantic days of the one of the most unpredictable and unprecedented elections in modern history, both candidates spent the blustery fall weekend crisscrossing the sprawling, diverse 10th district - meeting residents, rallying volunteers and campaigning hard for voters' support.
Comstock, known as an indefatigable campaigner, ended her long weekend in Fairfax, at a "Meet and Greet" with members of the Indian-American community at the home of Fairfax resident Amod Desai.
"She is the one person who understands the dynamics of this district, the issues, the culture, what's important," said Puneet Ahluwalia, a Fairfax County Republican official who organized Sunday's event. "She has been a presence in our community since she was a delegate…Her inclusivity has made a dramatic difference to us, especially with impressionable children."
"Our kids got the opportunity to share their thoughts directly with a Congresswoman," said Abhijit Adhikari, who also attended Sunday's Meet and Greet.
Both candidates began the weekend with a joint appearance at the ADAMS (All Dulles Area Muslim Society) in Sterling on Friday evening. Earlier in the day, the American Muslim Women Political Action Committee (AMW PAC) endorsed Bennett in the race against Barbara Comstock.
This is the first Congressional candidate the AMW PAC has ever endorsed, said Mirriam Seddiq, founder of AMW PAC, adding that "we truly believe that Ms. Bennett will be a strong ally for Muslim women in Congress."
Each candidate had some breaking news to share with supporters this weekend.
On Saturday, Comstock was buoyed by two key endorsements. The Winchester Star praised Comstock for knowing and working with her diverse constituencies. She also received the endorsement from the editorial board of The Washington Post, which surprised many Democrats, since the paper had never endorsed Comstock in the past.
"Yes, it was a little surprising to me," Comstock said during a phone interview on Monday. "To get both of these endorsements…it demonstrates our depth and breadth of knowledge and our broad support across our district.
"It is a crazy time, but I'm energized by all the challenging work," Comstock said. "That's why I make sure to make those relationships and keep those partnerships throughout the district. People know me, and it's a privilege to help them."
In Comstock's latest ad, which her campaign released Tuesday, she looks directly at the camera and touts her ability to work across the aisle. The ad features the banner "Endorsed by The Washington Post" at the end. Comstock's campaign emphasized that it was a "100 percent positive" ad, in a political season which has featured much negativity.
"While others seek to divide us I get results that unite us," claims Comstock in the spot. "I approve this message because working together…works."
Bennett's campaign got a boost from a Democratic poll which showed her leading Comstock for the first time, by 46 to 42 percent, among likely voters. Pollster Expedition Strategies in September had shown Bennett behind by four points.
That recent poll was conducted Oct. 10-12, after the revelation of GOP presidential candidate Donald Trump's hot-mic comments boasting about groping and kissing women. There has been much speculation that problems with Trump's candidacy will hurt "down-ticket" Republicans like Comstock.
After Trump's comments were made public, Comstock issued an unequivocally scornful statement, calling Trump's comments "vile, disgusting, and disqualifying," and declaring she would not endorse or vote for Trump. She also made it just as clear she would not vote for Democratic nominee Hillary Clinton.
THE 10TH DISTRICT Congressional seat has been held by Republicans for many years. Comstock won the election in 2014 to replace her former boss, Frank Wolf, who had been in office since 1981. However, the District voted for Barack Obama in both the 2008 and 2012 presidential elections and is viewed by many political analysts as a swing district which reflects the changing demographics which have made Virginia a swing state.
The Cook Political Report, a non-partisan election tip sheet, moved the Comstock-Bennett race from "lean Republican" to "toss up" on Wednesday, Oct. 19, citing Trump's unpopularity in much of the district.
The apparent tightening of the Virginia 10th district race has attracted attention nationally. Both candidates have benefited from spending by outside groups, which have poured more than $3.7 million into the race, according to data compiled by the Virginia Public Access Project.
Bennett has the support of Emily's List, whose President Stephanie Schriock campaigned for Bennett last weekend. The Congressional Leadership Fund, a super PAC supporting House Republican candidates, announced Friday an additional $1.2 million for cable, broadcast and digital advertising in the district, bringing the GOP super PAC's total spending there to $2.7 million.
Democrat Jamie Raskin, who is likely to win his own Congressional race in Maryland's 8th District, spoke to Bennett's gathering in Great Falls on Sunday, and participated in the door knocking that followed.

The Democrats holding the three statewide offices in Virginia, Gov. Terry McAuliffe, Lt. Gov. Ralph Northam and Attorney General Mark Herring, recently hosted a fundraiser for Bennett at a winery.