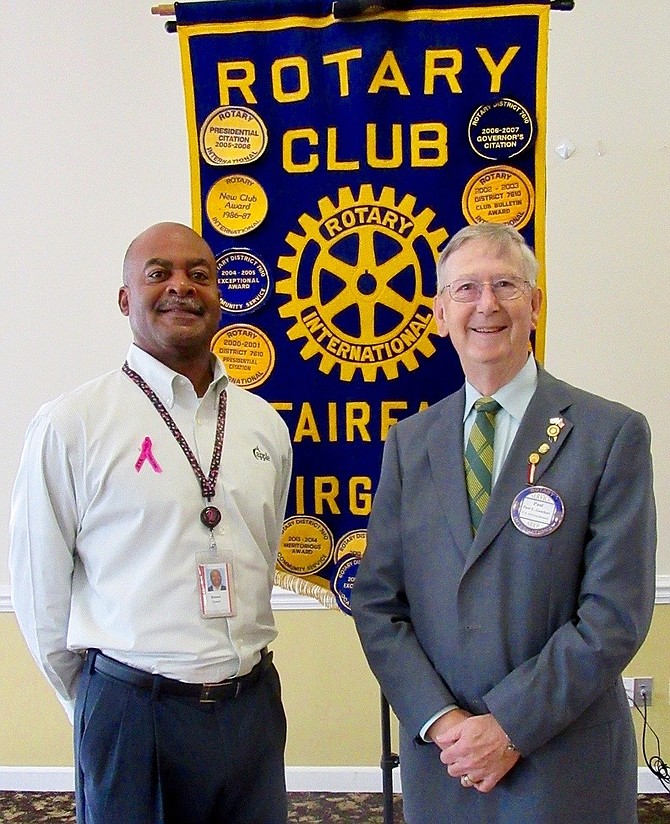 Fairfax County — The Rotary Club of Fairfax had just 16 members when it was chartered in 1931 by local businessmen and community leaders. Today, it's 75 members strong, has a long history of service to the City and just celebrated its 85th anniversary.
Among them is Paula Brown Kelley, whose grandfather, Judge Paul E. Brown, was a charter member of the club. Kelly is a past president and current publicity chair and has been a member for 19 years.
"An old friend called and told me about my grandfather's connection – I had no idea," she said. "So my father, also named Paul Brown, and I both joined and got to work together on some projects. We're really a diverse group – all different professions, as well as retirees."
In light of the club's milestone anniversary, Kelley and some other Rotarians gathered recently to discuss the club and the many, good deeds it does throughout the community. Besides her were Paul Gauthier, president; Carolyn Chappell, past president and international chairman; Robert Sowell, board member and volunteer; and Verne Tuininga, past president and youth services chair.
THE MEMBERS meet every Monday, except federal holidays, at 12:15 p.m., at American Legion Post 177. Meetings include lunch, plus speakers on various, life-stages topics, such as retirement and benefits, as well as local dignitaries, authors, educators, etc. For more information, go to www.fairfaxrotary.org.
"My role is fundraising," said Sowell. "I head our vacation raffle and See's holiday candy sale, and I also run our golf tournament, which raises money for scholarships." Each year, the club gives four scholarships to Fairfax High graduating seniors; two are for four-year, public colleges in Virginia, and two are for community colleges. The Rotary Club's golf tournament is the second Monday in May and, according to Sowell, "usually raises about $22,000."
Tuininga grants these scholarships, plus international scholarships to local students studying abroad in graduate programs. "We also have a youth exchange program where a student can do a cultural, ambassadorial exchange overseas with another family and student, and another student will come here for three or four weeks," he said. "We have both a summer and an academic-year program."
The club has an Interact program for Fairfax High students, as well, through which they perform community service, raising funds for families in need in the local area. "It's about the Rotary motto, 'Service above Self,'" explained Tuininga. "We also donate financially to the Boys and Girls Scouts programs and to the Fairfax Police Youth scholarship."
Furthermore, said Gauthier, "We give a Teacher of the Year award. We select up to three teachers from the six schools within the City of Fairfax, including Paul VI and St. Leo, and they each receive $1,000."
"And we give out dictionaries to all the third-grades in the six elementary schools that feed into Fairfax High," said Chappell.
The Fairfax Rotary Club takes the motto about service seriously. "On the last Saturday in April, the City of Fairfax designates a home for us to repair – usually belonging to an elderly couple or single mother," said Gauthier. Louise Armitage, the City's Human Services coordinator, chooses the home to be fixed up, and it must be owner-occupied.
"We go there with 15-20 Rotarians and provide the supplies and tools, plus 10-15 high-school students from the Interact Club," continued Gauthier. "We do painting, yard work, minor plumbing and electrical repairs and replace cabinets. We once even rebuilt a woman's bathroom."
THE CLUB also supplies meals through Northern Virginia Family Services for Fairfax City residents needing parental education. "One of the major things we do is work with Britepaths to give a Christmas outreach party to the families they refer to us," added Chappell. "It's complete with dinner, Santa and Christmas gifts for the kids. About 30-35 children and their parents attend, plus the Rotarians."
It's also a special event for the club members. "The smiles on those children's faces are so rewarding," said Tuininga.
Besides all that, said Chappell, "We ring the bell for the Salvation Army, three Saturdays in December, outside the Giant and Safeway stores in the City of Fairfax."
There are 1.3 million Rotarians worldwide, and Rotary International – which includes the local club – wants to eradicate polio throughout the world. So, said Chappell, "We're always raising money to support that project, too. And we partner with several other Rotary clubs in our Rotary District 7610, which has 56 clubs, in the Strategic Water Alliance to have boreholes dug in Zambia for clean water."
In addition, she said, "We're partnering on building a kitchen facility for a school in Chantel, Haiti. And we also support the Guatemala Literacy Project, providing money and books for schools there." Tuininga said the key to the Rotary Club's projects is sustainability, and Kelley noted that some Rotarians go to Zambia and Guatemala to check on the projects in person.
Chappell also stressed the community service projects the local club has done to benefit the City of Fairfax. "We provided the pavilion at Van Dyke Park and the street Rotary clock at Old Town Square," she said. "The clock commemorates 200 years of the City and 100 years of Rotary International."
She said the club also paid to have the art gallery within the Sherwood Center named the Rotary Gallery, and it donated a park bench outside the Center in memory of past City Councilwoman and Rotary member Joan Cross. "We also participate in the City's Independence Day parade," added Kelley. "And our float this year won first place."
On Sept. 13, the City Council officially recognized the Rotary Club of Fairfax's 85 years of service to the community and its "generous contributions of volunteer time and financial support of many worthy causes" by proclaiming Sept. 25 as Fairfax Rotary Club Day in the City. It meant a great deal to the group, but they also have their own reasons why they're happy to be members.
Tuininga, a 22-year Rotarian, likes the service and fellowship; and Gauthier, in his 10th year, likes the idea of "Service above Self." He was house captain for the home-repair projects for eight or nine years and also worked on the Teacher of the Year program. And Kelley enjoyed running the Christmas party for families in need.
Chappell, a 24-year member, likes the knowledge imparted by the guest speakers. And, she said, "My father and grandfather were both Rotarians; women weren't admitted until 1987."
A Rotarian for 11 years, Sowell enjoys the camaraderie of his fellow club members. But he joined, he said, because "My dad instilled in his kids to volunteer and give back to their local community."