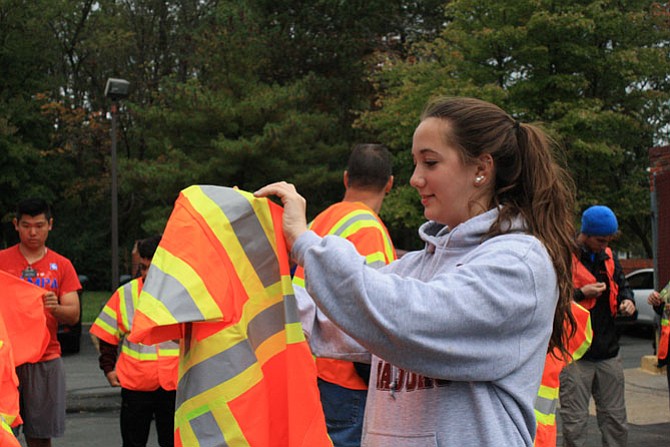 Mount Vernon — Walking along Jeff Todd Way in the Mount Vernon area, picking up litter didn't seem like an exciting way to spend a Saturday morning, but Hannah Todd didn't seem to mind. The road was named after her father, Jeff Todd, who died a few years ago, in honor of his dedication to the Mount Vernon-Lee community.
"I wanted to make sure my dad's road is clean and everything," she said, gathering with other volunteers who were there with the Mount Vernon-Lee Chamber of Commerce or students earning their community service hours. Hannah got her trash bag, and safety vest, "thinking about him and all the amazing stuff he's done."
The bi-annual clean-up of this stretch of road was organized by the Mount Vernon-Lee Chamber of Commerce who "adopted this stretch of roadway," said Jay McConville, the chamber's chairman of military and community affairs. "Jeff was a key member of our chamber," he said.
The road is a connector from Telegraph Road in Lee District to Richmond Highway near the western part of the Mount Vernon Plantation property. after the 9/11 terrorist attacks the road through the woods of Fort Belvoir was closed so getting from Lee District to Mount Vernon was not a clear shot. The Federal Highway Administration Eastern Lands Division completed the nearly three-mile stretch of road in 2014, and it was named after Jeff Todd shortly after.
In the Roy Roger's parking lot, McConville organized the group, and handed out reflective vests and bags, and some advice. "If it looks dangerous, just leave it," he said. "Get the big stuff, you will never finish if you go for every cigarette butt," he added.
A majority of the cleaning crew were high school students, mostly earning their community service hours, but not all. "I'm not just doing this for service hours, I do like helping," said Alyssa Warnock, a senior from Hayfield Secondary School.
Ben Hinshaw, a friend of Hannah's, was there for the community hours and to help out Hannah who told him about the clean-up. He was "glad to help out, and make the community look nice," he said, but waking up early was another story. "That wasn't too fun," he said, although his mother Peggy was proud of his efforts.
As it got towards lunch time that day, the group had collected dozens of bags full of trash. Some of the more noted items they found included a truck tire and a cracked i-Pad.