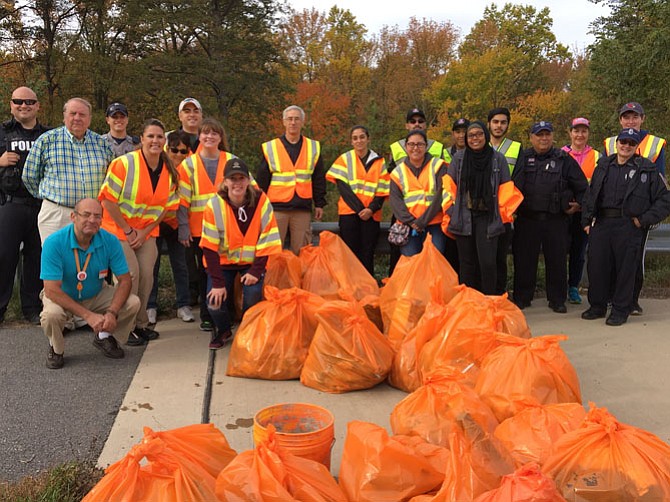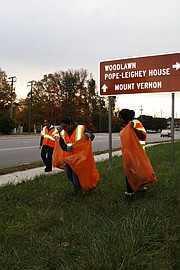 Out in front of the Oaks of Woodlawn along Jeff Todd Way, a voice rang out from a group of volunteer trash collectors who were part of this annual clean-up to honor Jeff Todd, a former member of the Lee-Mount Vernon Chamber of Commerce who was killed in an accident.
"We got a pair of shoes, the first pair," a volunteer said. They pushed on, decked out in safety vests as the groups walked up the 2.5 mile road in Mount Vernon. Although this is an annual event, there is never a shortage of litter. Drivers and pedestrians throw trash out at an alarming rate, and by the end of a few hours, the volunteers had 15 bags of trash.
"I think all the people that litter should come to these things," said Holly Dougherty of the chamber. "Jeff was a chairman of the chamber so we adopted the road," she said.
Brittany Garcia, an executive with Baywood Hotels, was on her fourth year volunteering for the clean-up. She wasn't surprised that even though she had walked up and down the road last year, getting a bag full, there was more to pick up. "People ride down the road and they're constantly throwing things out the window," she said. No matter though, she was there as part of group with trash bag in hand. "This brings the community together," she said.
Amanda Sellman, co-worker of Garcia's, noted her company's support for things like this clean up day. "We're involved," she said.
Last year, there was twice as many volunteers on Jeff Todd. It just happened to be on the same day as the "Ride de Mount Vernon," a bike ride that Mount Vernon District Supervisor Dan Storck sponsored, as well as various sporting events and other activities that may have impacted the amount of volunteers. The Fairfax County Police Department and the Explorer group were helping out as well. "We do a lot of events like this where we volunteer our time," said 17-year-old James So. He hopes to be a police officer in the near future.