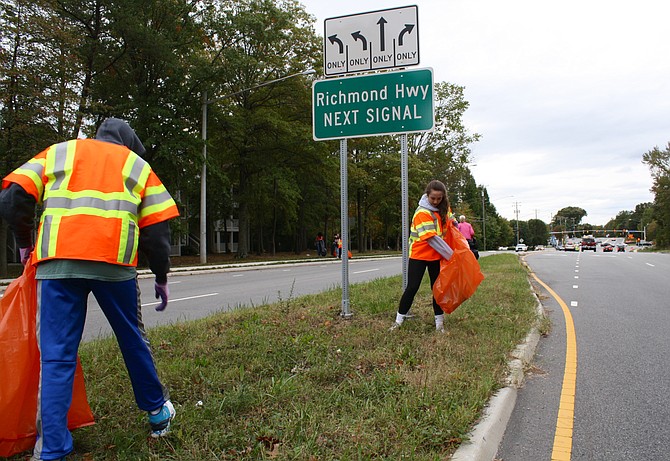 With everyone concentrating on social distancing these days, the Virginia Department of Transportation's Adopt-A-Highway is a possible option to clean the roadsides, get some sun, and practice social distancing while doing a good deed. One look out the car window in some places, and it's obvious something like this could use some attention.
Roads in Fairfax County are adopted more than in any county in the state, VDOT says. In Fairfax County, the Adopt-a-Highway program has 324 active permits with a total of 1763.99 lane miles adopted.
There isn't much to the adoption either and after two clean ups, VDOT puts in the blue sign which is looked at by some as good PR or advertising. According to VDOT, volunteer groups and individuals "adopt" a two-mile or longer stretch of roadway and make a two-year commitment to pick up the trash at least four times a year.
A group applies to adopt road segments for Adopt-a-Highway under a permit agreement, and the organization agrees to clean their adopted stretch of highway at least two times a year for three years. Typically, if the pickups are not within those timeframes, then VDOT will contact the groups with a gentle reminder to complete their pickups. If they are non-responsive, then the permit would not be renewed and the route would become available for another group/person to adopt.
The group picks a convenient date each quarter and everyone works together to pick up trash along the route. VDOT provides the signs, trash bags, bright orange vests and safety information. The bags can be left along the side of the road for VDOT to pick up, or the group can turn recyclables in for cash.
"Under the current circumstances, however, we are certainly working closely with our volunteers and being understanding/accommodating of volunteers who cannot complete pickups at this time," said VDOT's Adopt-a-Highway coordinator Kari Fuhrman.
If any groups want to do it during the pandemic, VDOT has a few guidelines:
• The Adopt-a-Highway program asks all volunteers to adhere to the federal and state mandated social distancing guidelines.
• Offices are open to provide any volunteers safety items if needed, and to contact the office to schedule a date and time to pick up the items.
• Personnel will leave the items in an accessible area outside of the office for volunteers to pick up.
• VDOT crews are still performing road maintenance work and able to pick up any bags left on the side of the road.
• The volunteers' safety and health are the number one priority.
Adoption in Action
Many times, it's not only the trash that's the reason for the adoption; there can be a cause that is the object, and it can be a way to bring an effort or a name to the forefront. This is the case with Jeff Todd Way in the Mount Vernon area. Jeff Todd was an active community member that was the victim of a car accident, but his family keeps the memory alive by sponsoring a Jeff Todd Way Clean Up every year. One was scheduled for this spring, but was cancelled by the family due to concerns about the coronavirus.
The Adopt-A-Highway program was launched in 1988. Each year, nearly 18,000 Adopt-a-Highway volunteers collect more than 25,600 bags of waste along Virginia's highways. VDOT encourages Adopt-a-Highway participants to schedule one of their two yearly pickups during April to coincide with "Earth Day" or in the fall to coincide with the autumn "Day to Serve." If your group cannot participate on those dates, or weather makes it unsafe to pick up litter, schedule your cleanups for other spring and fall dates.