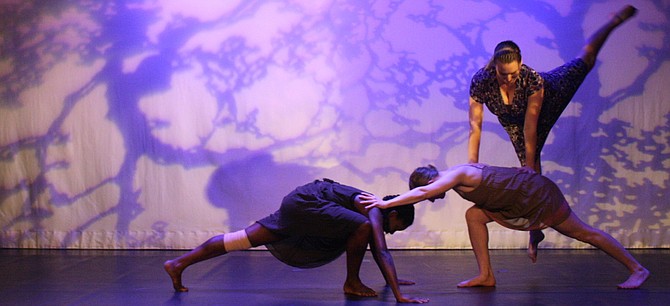 Lorton — Continuing its role as a locally-based incubator venue for Northern Virginia, the Workhouse Arts Center will be presenting the "Small Plates Choreography Festival." Developed by Beth Elliott (Northern Virginia Community College), the festival aims to bring the area's best choreographers and dancers to audience attention.
"We're thrilled to welcome Beth Elliott to the Workhouse Arts Center for another year of the 'Small Plates Choreography Festival,'" said Ava Spece, Workhouse, President/CEO. "Curated by Ms. Elliott, audiences will enjoy an unforgettable dance experience, surrounded by all the history and creativity the Workhouse has to offer," brought to life by the region's best choreographers and dancers.
So, what exactly is the "Small Plates Choreography Festival"? "It provides opportunities for choreographers to present work, to share an audience, and to engage with the audience in dialog about the work," said Elliott. Dance works are no longer than 10 minutes in length.
The Festival aims "to build community by bringing dance-makers and audiences together in an intimate performing arts experience," added Elliott. This year's multi-performance festival includes long-time members of the local dance community as well as newcomers.
"The choreographers have all really grown, and the new/emerging choreographers have the safety net of the regular participants to help guide them through the process," noted Elliott.
"I think that we can expect 'Small Plates' to continue to build a supportive and engaged community of dancers and dance audience" in this community.
The Workhouse facility "supports the idea of short, small dance works presented together. It's an intimate environment, conducive to a personal feedback experience with the audience," added Elliott. The venue seats about 100.
Inviting audiences who may not be familiar with either the local dance scene or the "Small Plates Choreography Festival," Elliott said, "Come and be part of the 'Small Plates' experience. You can experience a little bit of a lot of different choreographers, and see what you like. It is a great experience for someone new to dance, and also an inviting atmosphere to ask questions and learn more about how choreographers think and work."
"'The Small Plates Choreography Festival' is a really unique idea by having multiple professional dance companies collaborating on a full concert program," said Joseph Wallen, director, Workhouse performing arts.
"It also provides exposure to audiences that might not know of emerging dance companies and brings new talent to our stage," added Wallen. And after-performance talk-back is encouraged.
Where and When:
Beth Elliott Dance Group presents the "Small Plates Choreography Festival," at Workhouse Arts Center, W-3 Theatre, 9518 Workhouse Way, Lorton. Performances: Nov. 18 and 19, 2016 at 8 p.m. (doors open at 7:30 p.m.). Tickets: $15 (general admission), $10 students and seniors). Call 703-584-2900 or visit www.workhouse.org