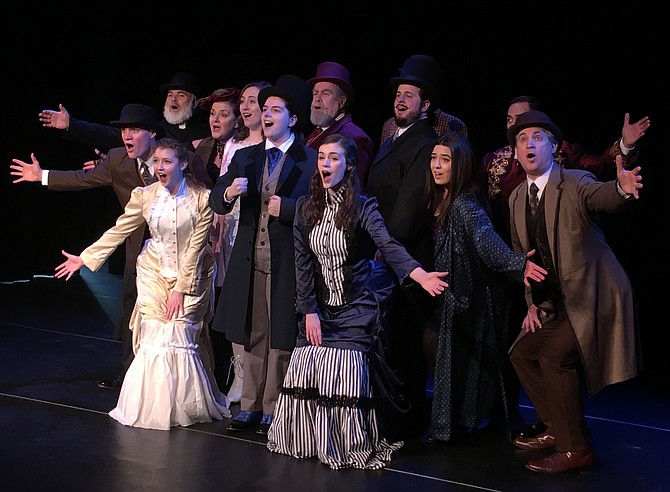 "We wanted to provide Northern Virginia audiences with a unique evening of musical storytelling. That is why we selected 'The Mystery of Edwin Drood' for our next production," said Joseph Wallen, Artistic Director, Workhouse Arts Center. "Edwin Drood" provides audiences the opportunity "to not just sit and take in the production, but to make a difference in the final outcomes of each performance."
Rupert Holmes who wrote the Tony Award-winning musical "The Mystery of Edwin Drood" includes the audience's voice as part of the plot. "As the musical is based on an unfinished novel by Charles Dickens, Holmes decided to acknowledge this by asking the audience to help solve the crime," noted Wallen.
What is fun, indicated Wallen, is that after the audience votes on the "real" identities of the characters, "the performers are then tasked with completing the remainder of the musical using the solution provided by the audience." There are fifty or so possible endings – each of which the cast, crew and band must be ready to implement.
"The Mystery of Edwin Drood" is a British Music Hall-type show-within-a-show centered on a Victorian era theater company full of eccentric people. The plot of the musical is this: in the small town of Chesterham, England, the young and charming Edwin Drood (Amanda Mason) has been mysteriously murdered. But by whom? Might the killer be a romantic rival? Or the purveyor of wickedness. Or perhaps some mysterious newly arrived twins up to no good?
The show also includes an emcee (Brian Lyons-Burke) who introduces scenes, and even directly interacts with the audience. Some scenes will even have the performers in the audience areas "playing" with the guests during the performance. The idea is to have Workhouse guests "feel as if they are part of the show at times," said Wallen.
Danilo Stapula directs the cast of thirteen. Each actor portrays two characters. The more than two dozen songs are directed by Paige Austin Rammelkamp. The music is live, not recorded. Stefan Sittig is the choreographer. There will be plenty of lights, sounds and stage effects to enhance the audience experience.
In the past the Workhouse Arts Center has produced shows that have been primarily geared towards adult audiences. "The Mystery of Edwin Drood" has a wider age group in mind. Wallen indicated that due to some suggestive humor, parental guidance is suggested.
Where and When
Workhouse Arts Center presents "The Mystery of Edwin Drood" at W3 Theatre, 9518 Workhouse Way, Lorton. Performance April 3 to April 19, 2020. Fridays and Saturdays at 8 p.m. Sundays at 2 p.m. Tickets: $20-$35 (*Ticket prices may increase, based on demand. Advanced purchase highly recommended). Visit www.workhousearts.org or call 703-584-2900. Note: Due to some suggestive humor, parental guidance is suggested.