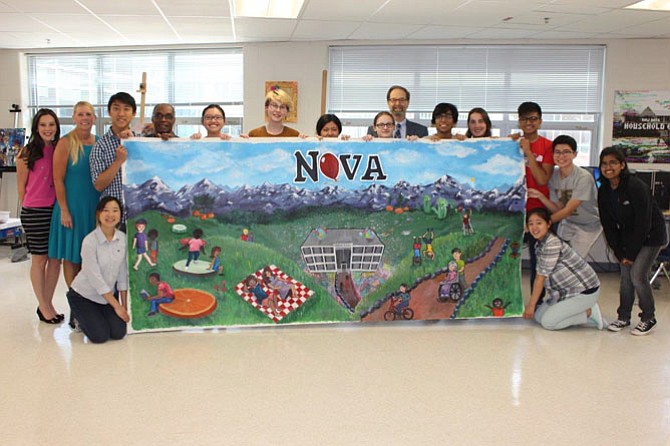 NOVA Pediatrics and Young Adult Medicine has recently celebrated its 55th Anniversary and teamed up with Thomas Jefferson High School for Science and Technology (TJHSST) to support arts in education to commemorate the milestone. NOVA Pediatrics invited art students from the school to create a mural for their recently repainted Springfield office. The partnership worked together over the course of a year brainstorming ideas on the themes of patient health and wellness. The students incorporated those themes into the large mural which was painted on a canvas 4 feet tall by 10 feet long.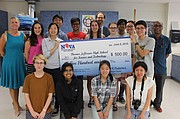 NOVA Pediatrics and Young Adult Medicine has served the Northern Virginia community for the past 55 years and has locations in Springfield and Woodbridge. "We felt that this was a good way to involve the local community and to give these young creative art students a real commission," said Dr. Laurence Seidman, President. He contacted the head of the art department, Tim Davis, who suggested the Art Honor Society would be excited to handle the project. While the school is known for its academic excellence in the areas of math and science, the students are also very creative, bright and committed to community service.
The students participating in the project were:
Alyssa Lee, Jonathan Burkle, Arthur Wu, Sam Liu, Audrey Huang, Chantal Iosso, Hannah Collins, Helen Tran, Immalla Chen, Varun Iyengar, Jessica Wang, Lada Semicheva, Michelle Cao, Prabhav Bhaumik, Rachel Eom, Sharon Liu, Sydney Miller, and Warren Chen. They worked under the leadership of their mentor and teacher, Tim Davis. This was done after school hours and during their free time despite their busy schedules.

NOVA Pediatrics presented a check for $500 to the art department at TJHSST. The money could be used for future art trips and supplies that may not be adequately funded.
Nova Pediatrics and Young Adult Medicine has served the Northern Virginia community now for 55 years and has privileges at both INOVA Fairfax and Alexandria hospitals. There are offices in both Springfield and Woodbridge. Currently there are 7 board certified Pediatricians: Doctors Laurence Seidman, Violet Nematollahy, Allison Rodgers, Mona Hanna, Tiffany Meyer, Gina Schwartz, and Jamie Zakkak, as well as three Nurse Practitioners: Lena Garcia, Ginger Beecher, and Virginia Krause, who have over 125 years of combined service. They provide care from birth to the age 25 to patients in Northern Virginia.