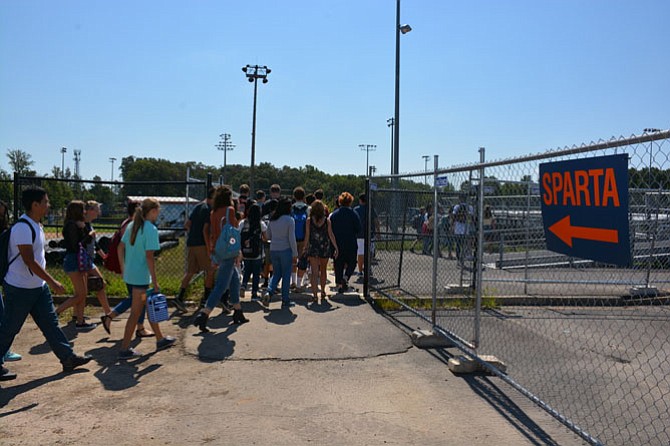 South County High School senior Dominique Butler remembers skipping class as a freshman. But when she saw how it was affecting her chances at going to college, she turned things around. When she saw freshmen from her neighborhood on the first day of school, she made sure they wouldn't make the same mistakes she did.
"I helped them out," Butler said during lunch on Sep. 6. "It feels good to encourage them to go to class." This year, the senior is attending West Potomac academy in addition to South County to study music and computer technology, where she produces her own beats and records under the moniker "DJ Spinderella."
Butler's fellow senior Hermela Gebremariam similarly shepherded some underclassmen who looked lost, even inviting them to eat with her and her friends at lunch.
"I was a freshman once," she said. "I like seeing how I could help younger students. It's better to be nice than mean."
The two seniors were already embodying a new inter-student standard for behavior called "Stallion Nation." Last year, a new student council drafted the code and plans to roll it out for all students this year.
Principal Matt Ragone said the new code is based on students having positive expectations for and of each other.
"I'm so proud of them for coming up with this," Ragone said. "It's also about getting the non-student government voices to be heard. And it's about the culture of the school."
Facilitating and empowering students to be both independent successfully and as cheerleaders for each other was a theme across high schools.
At Robinson Secondary School, the entire incoming seventh grade class first met separately in the auditorium to learn the fight song fast while the rest of the student body assembled in the gymnasium.
With the marching band blaring, flag dancers twirling and older classmates cheering them on, the school's youngest students then rushed the gym -- a cacophonous swell of students building relationships.
Robinson associate principal Tracey Phillips organized the pep rally, which was the first day's main event following welcome activities outside the school that included cheerleaders, drumline and faculty effusively greeting students on their way in.
"It's a big place and can be overwhelming," said Phillips, herself Robinson graduate. "We want to be an inclusive place for all the kids, somewhere fun and exciting where they can find something they love."
In a similar vein, Lake Braddock Secondary School principal Dave Thomas said he is "most proud of all the opportunities our kids have."
From JROTC and animation to weight-lifting to broadcast journalism, "our kids can really find a niche with some cool studies we offer."
Thomas was also proud of the continued use of a class period where students can go for help, or to help each other, called "Bruin Block."
The block he said will be crucial for both students and the nearly 40 new teachers in the building this year to overcome challenges and be successful. One of those challenges is a larger student body of 4,270, the most since the late 1980s by Thomas' account, that is requiring teachers to use all rooms for six to seven periods a day.
Another school with students and faculty contending with more structural growing pains is West Springfield High School. A three and a half-year renovation began over the summer: With a parking lot being torn up for a new third-floor extension, they've lost 249 spots and classroom space for 42 percent of students.
Students have been forced to find alternative places to park, as well as take classes in one of 54 trailers in a village behind the school now known as "Sparta."
But even with all this going on, principal Mike Mukai said the students are taking it in stride.
"The kids are so resilient," he said. "It's all about adjusting, being prepared and flexible."
Mukai described the student culture as being "open and accepting," and caring for others. He referenced a day last fall when the WT Woodson High School football team played a game against West Springfield the same night as a chemical fire in a Woodson classroom injured several people.
West Springfield students spontaneously wore white and created a sign saying "We Are All Woodson" for the game.
"I'm so proud of the work our students and faculty are doing," Mukai said, highlighting their enrollment is up more than 100 from what was predicted in the spring. "No one chose to come here because they drove by and thought, 'What a beautiful building."