Springfield — It was a busy summer for the construction crews at West Springfield High School doing the renovation, but now that the summer is coming to an end, the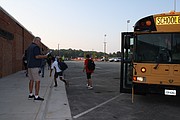 students filed in on the first day on Aug. 28.
"We don't have kids down in the trailers anymore," said Bill Langloh on the security staff. His station last Tuesday morning was out back where the buses unload.
That seemed to be the feeling with all the staff. "All of our teachers will finally be under one roof," said photography teacher Dorothea Swaggart.
"We've had 65 new rooms in the last three weeks," said Michael Mukai, the principal.
To some of the students, it didn't really seem like that much of a big deal. Sydney Anderson, 17, and Sam McQuiston, 16, got there early, sharing some of their summer stories with each other. "I want to get out of my house early to get the day over with," said McQuiston.
The $75 million renovation is more than halfway completed and the trailers that everyone was talking about were in an area called "Sparta," keeping with the West Springfield Spartans theme. Included in the renovation is a new entry, which isn't right on Rolling Road like the old entrance, and new technologically improved classrooms. The renovations are scheduled to be completed in 2021.
Mason Melear locked his bike up by the new front door, and plans to ride to school every day like he did last year. Biking to work is faster than the bus, he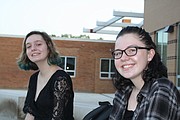 said. "Did the same thing last year, I'll do the same this year," he said.
Catherine Brach, a 16-year-old junior, is setting her sights high and studying French. "I'm taking two languages this year, I'm looking forward to learning a new language," she said.