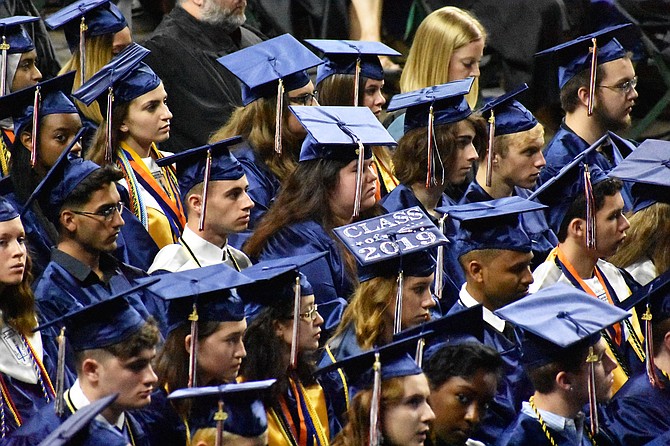 The West Springfield High School commencement ceremony, which was held Tuesday, June 4 at the EagleBank Arena, had an unorthodox approach to addressing graduates.
Instead of delivering the typical Principal's address, West Springfield Principal Mike Mukai opted to share his speaking time with the principals of the subsidiary elementary schools. Each principal, including Mukai, shared one quote from a famous scholar and another quote from the children's book "Pete the Cat" with a similar sentiment.
This string of speeches began with Keene Mill Elementary School Principal Renee Miller reminding students that they all excel in different areas and that comparing one person's form of success to another's is futile — for, as Einstein is quoted, "if you judge a fish by its ability to climb a tree, it will live its whole life believing that it is stupid." To accompany this quote, Miller chose the "Pete the Cat and the New Guy" excerpt: "being different is really very cool… there is something everyone can do."
Mukai closed these successive speeches by sharing his favorite quote from "Pete the Cat's Groovy Guide to Life." With conviction he told the graduates, "there are no failures, just lessons."
There was a theme of learning from past failures and mistakes, as the keynote speaker, social studies teacher Joanne Pendry, focused on the importance of social and personal history and their impacts on the students' futures. She urged the audience to use the United States's history as a "guidebook" and asked them to "understand the past to guide and instruct your future," she said.
She shared her own experience of graduating from high school, which she noted was exactly 30 years ago to the day, asking if anyone could relate to high stress levels and worrying about how she would get her cap to stay on her head while not disturbing her perfectly styled hair. But, as she was getting ready, she saw on television live footage of the Tiananmen Square Massacre. She remembered seeing "students on the other side of the world bravely helping each other to safety. [She] saw young people standing up definitely against an opposing force."
From this and other moments of activism from young people, Pendry "found inspiration in the power of students." She hoped her audience would, too. "I know what youth are capable of. And I see potential in each of you that can lead and inspire our world," she said.
Closing her speech, she asked the graduates to thank the people around them. "Show your gratitude to the adults who have helped shape you… Equally so, show your gratitude to your peers," she said. "You have become part of each others' history and have helped form each other into who [they] are."
Finally, she asked everyone to "be grateful of the history you've made together at West Springfield." And, in keeping with the theme of learning and moving forward, she said, "I implore each of you to go forward and make new history."