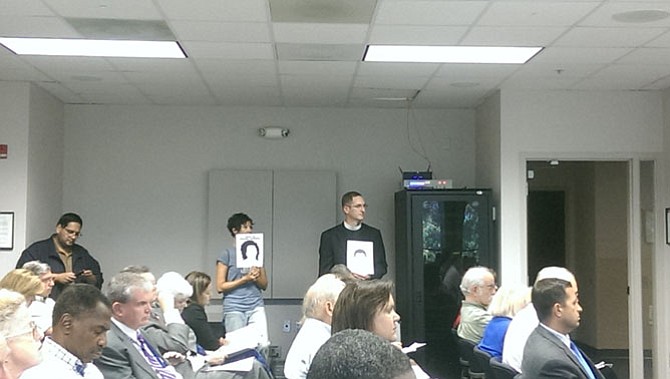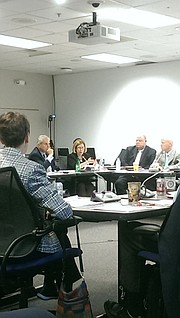 At its Sept. 20 meeting, the Fairfax County Board of Supervisors will vote on the recommendation of the Ad Hoc Police Practices Review Commission to create an office of independent police auditor.
Board members reviewed a draft action item for approval of the recommendation during a meeting of the public safety committee on Sept. 13.
The draft included a number of revisions to the commission's recommendation, which was discussed at the previous committee meeting.
Among the most significant revisions, said committee chair supervisor John Cook (R-Braddock), was how the auditor will be involved in police internal affairs investigations as they are occurring.
In the language of the action item, the police auditor "will review police use of force cases and complaints involving serious injury or death, including officer-involved shootings, to ensure the investigations are comprehensive, accurate, objective, and impartial."
Later in the document, supervisor Jeff McKay (D-Lee) pointed out, it calls for the auditor to review all use of force incidents which are the subject of a public complaint made to Fairfax County Police or the auditor. This would include far more than just those involving serious injury or death, which are beyond the recommended scope from the Ad Hoc commission.
Cook and the members confirmed the scope of the auditor's work would follow the commission's original recommendation.
There was also clarification that the auditor (whose office would include two support analyst positions) would recommend things to be looked at and people to be interviewed as part of their work, but would not personally question them.
Their purpose is to determine whether an investigation by the police department is being conducted well.
Another revision, pointed out by Board of Supervisors chairman Sharon Bulova, was that the recommendation the Board-appointed auditor serve a two-to-five year term would be replaced by a proposal for the auditor to become an "at-will" position. If the action item passes, they would serve at the pleasure of the board.
Cook concluded the hour-long meeting by calling on independent counsel Julia Judkins to comment briefly on the creation of a civilian review panel, the primary topic of discussion for the next public safety committee meeting on Oct. 25.
From a legal standpoint, Judkins said, the most problematic component of the potential review panel would be that body hosting public hearings.
County employees, such as police officers, could be invited, not compelled to attend such meetings, Judkins said.
"This is a completely different animal and I don't see any authority for it," she said of such action.
Jack Johnson, chair of the Independent Oversight and Investigations Subcommittee of the Ad Hoc commission, reminded committee members the intent in that recommendation was the panel would review incidents and not investigate them.
The next meeting of the Public Safety Committee is scheduled for Oct. 25 at 1 p.m. For more information, visit www.fairfaxcounty.gov/bosclerk/board-committees/meetings.