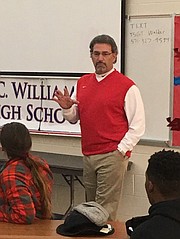 As T.C. Williams' head football coach, Jimmy Longerbeam is the new kid in town and will talk about the upcoming season at the Alexandria Sportsman's Club annual High School Football Coaches Night Sept. 20 at the Old Dominion Boat Club.
Joining him will be Bishop Ireton's Kevin Barger, the other new kid on the block, as well as returning head coaches Panos Voulgaris from Episcopal High School and Bernard Joseph from St. Stephen's/St. Agnes.
The Meet the Coaches night will begin with a reception at 6:30 p.m. with presentations of the Athlete of the Month awards beginning at 7:15 p.m. The event, held at 1 King St., is free and open to the public. For more information, visit www.alexandriavasports.org.