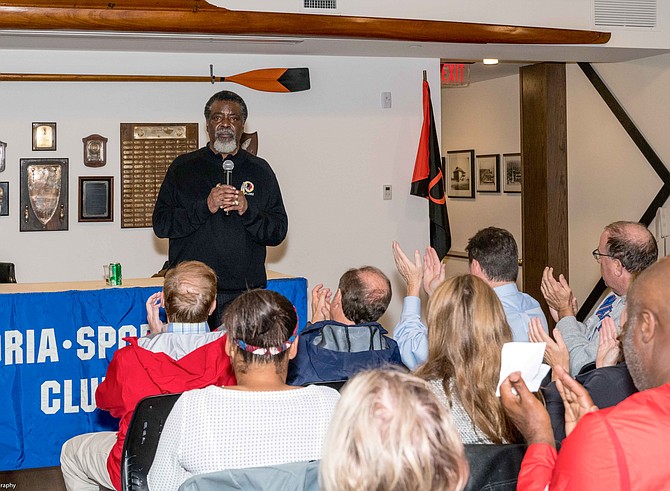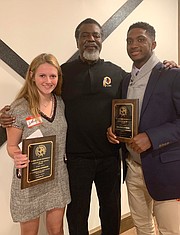 Tony McGee, former defensive lineman for the Washington Redskins, was on hand to present the Alexandria Sportsman's Club Athlete of the Month Awards Oct. 16 during the organization's annual Redskins Night at the Old Dominion Boat Club.
Recognized for outstanding athletic and scholastic achievement were St. Stephen's & St. Agnes students Malcolm John (football) and Kathryn Atkinson (field hockey), Mary Margaret Quinn of Bishop Ireton (girls lacrosse), Alli Boehm (track and field) and Elyse Farrell (volleyball) of Episcopal, and Milan Rex (volleyball) and Robert Longerbeam (football) of T.C. Williams.
The Athlete of the Month Awards followed a presentation by McGee that detailed his career from college to professional football, including his experience as one of the "Black 14" during his junior year at the University of Wyoming.
In McGee's junior season in 1969, he and 13 other African American players were removed from the team by head coach Lloyd Eaton for wearing armbands in support of a protest called by the UW Black Students Alliance against The Church of Jesus Christ of Latter-day Saints tenet which prohibited black men from becoming priests.
McGee went on to finish his college career in Texas at Bishop College in Dallas. Projected to be a first-round pick in the 1971 NFL Draft, he fell to the third round because of his involvement in the Black 14. His NFL career spanned 14 years, including a Super Bowl win with the Redskins in 1983.
The Alexandria Sportsman's Club, founded in 1947, is a nonprofit organization that supports local high school athletics and recognizes achievements on the field and in the classroom. Monthly meetings include a special guest and presentation of Athlete of the Month awards. For more information, visit www.alexandriavasports.org.