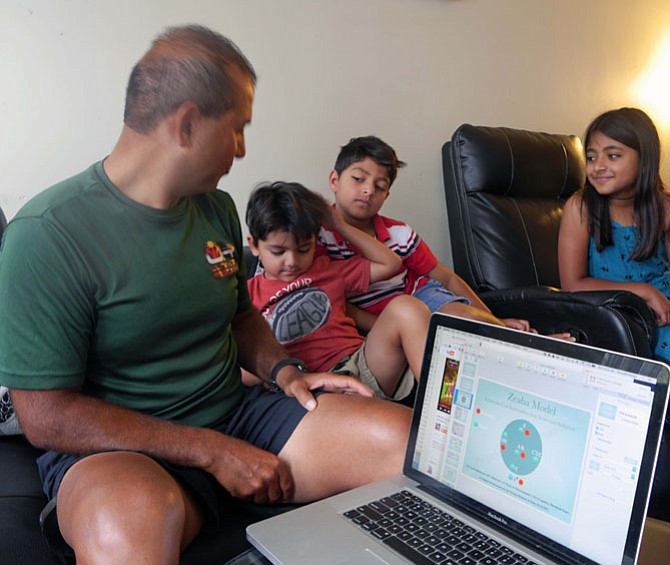 It is mid-morning, and Mustafa Nazary sits on his living room couch. He had started the day at 6 a.m. with his first appointment at Ultimate Results, his fitness center in Georgetown, where he is a personal trainer. His 5-year-old son Idris, joins him on the couch. "He is hip-to-hip with me."
Nazary had fled from Afghanistan when he was 13 years old. "We had a big family of 90. Imagine a huge box with our houses, all living together. Life was literally heaven." Then the Russians invaded Afghanistan, "and we had to leave." Nazary said his family was smuggled out, one at a time. "My father kept returning to get my brothers." About 60-70 percent went to Germany and the rest to America.
Nazary recounted he had been on a bus in southern Afghanistan heading toward Pakistan. His skin was light and he spoke Farsi, which meant he was from the north and headed suspiciously in the wrong direction. The Russians stopped the bus, forcing people to speak and forcing them to get outside the bus. "They often chose to kill people on the spot." They pointed a gun at Nazary's head. Someone in the bus yelled, "This boy is mute," and it saved his life. He said 1 million Afghans disappeared, "just like that. We were very fortunate. Life in America is heaven and a half."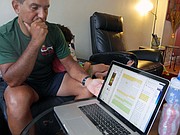 Now Nazary lives in Fairlington Villages with his wife and four children. His four brothers live in Centreville, Gainesville, Fairfax Station and Bristol. He says the cousins see each other once or twice a week. He owns a fitness center where he does pre-and post-rehab, weight loss, and offers assistance with stress using a formula he has developed about human behavior and the circuitry of the brain.
Nazary will go back to his personal therapy appointments around 3:30 p.m. and has clients at night. In between he will bike at Hayes Point from 11-1:30. "I meet a group every day. Here is this month — 1,299 miles with 1,400 miles last month. I simply don't miss a day. I love biking."
Nazary has a number of different clients. "One wonderful man is 82 years old. He couldn't walk straight so we do a lot of stairs, exercise with his eyes closed. And since he takes a lot of airplane trips, his shoulders need to be strong enough to get a bag on the airplane. I make sure he is functional day by day."
Nazary points out there is some suspicion because he is Muslim. "One woman spoke to me for 45 minutes before signing up for the training. She talked about terrorism, Sharia law." He said there is "no model to tell why you are a racist, hate each other. We found out it was because of 9/11. That's how the brain functions. It has a tendency to blame everybody for one person's action, to protect themselves. I love people's behavior. There is a perfect reason that people do the things they do. Recently a gentleman with a dog stared down my 7-year-old son, Sultan, when he was riding his bike." Nazary said, "Things like that happen but there is a logical reason."
He said his wife was walking with the 5-month-old baby in the stroller a few weeks ago when someone hit her on the head with a big stick. He said, "You kind of get used to it. We tend to label people but there is no difference between the races. It depends on what information goes into the brain. Information is neutral but it depends on the brain circuitry."
Since 1993 Nazary has been studying the brain. It began when he had two clients and one lost weight while the other one didn't. He figured out one was motivated and the other wasn't. "I love to know how people behave and why." He looks at how the brain functions to help clients.
He said, "This may sound weird but I got a huge gift in 2001 when a guy came up to my van and attacked me in Alexandria. He said, 'Are you Afghan? I'm going to kill you.'He beat me up in a parking lot. But this was a defining moment because I understand how this guy behaved."
Nazary has developed a behavioral model with five variables. According to Rick Marin, a technical writer who works with Nazary, he has some innovative ideas for explaining human behavior, and they can be clinically measured. Part is based on neuroscience but some aspects are radically different — for instance, the concept that consciousness can override the environment.
When he discovered that once people learn something that is objective and or they bond to it emotionally, the logic region of the brain (neocortex) goes dark and that new information becomes part of its data base or circuitry. He says, "We don't think about it anymore. I couldn't sleep for two nights after that. I don't know if my wife remembers. I do believe what kept me awake for two nights is discovering something that explains complex human behaviors at any given moment in time." He calls his formula the Zeaba model, named after his daughter and mom. He says emotions can rationalize any irrational behavior. But emotions don't exist independently; they come out of the circuitry of the brain.
"My main thing is for the formula, when for instance you see shooting in Dallas, to examine why people do what they do. It doesn't get addressed. You could teach somebody," he said.