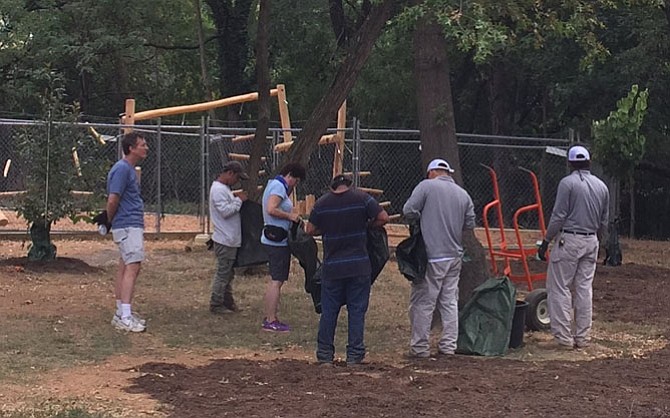 The wheels were set in motion back in April, when Brooke Curran solicited 400 donors to participate in Spring2Action to help fund the revitalization of Taney Avenue Park. A plan was approved, equipment was ordered and on Sept. 17, more than 60 volunteers joined Curran in the RunningBrooke Playground Volunteer Day.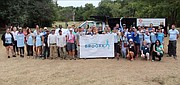 "It's exciting to see Alexandria's West End come to life," said Curran, founder of the nonprofit that focuses on the needs of children. "We planted native trees and perennials and installed walking paths through native tree groves. Our work will prepare the site for play equipment, benches, tables, a welcoming ADA-compliant entry plaza and a much needed water fountain."
The Taney Avenue park playground will serve more than 1,500 kids, many from families that live below the federal poverty line.
In addition to planting 20 Virginia-native trees, volunteers mulched walking paths, cleared invasive brush and pruned existing trees. Garbage and debris were cleared, including rusted bicycles, parts of a metal swing set, bags of trash and a rusted out road sign.
The project is designed and guided by the City of Alexandria's Department of Parks, Recreation and Cultural Activities. Also partnering with RunningBrooke are Rebuilding Together Alexandria, BrightView and Rosemont Landscaping & Lawncare.
"We are so pumped about this new playground," said Curran. "It's awesome to see so many people from the community come together and give their time and money to help make this park possible for the families who live near Taney Avenue."
Play areas and equipment will be installed in October with a formal ribbon cutting to be announced at a later date.
"Parks and playgrounds play an important role in our community," Curran said. "They provide a place for families and friends to explore, reconnect and get active. Now the Taney Avenue neighborhood will have a better-lit community space that will unify the neighborhood and bring families together."
For more information, visit www.runningbrooke.org.