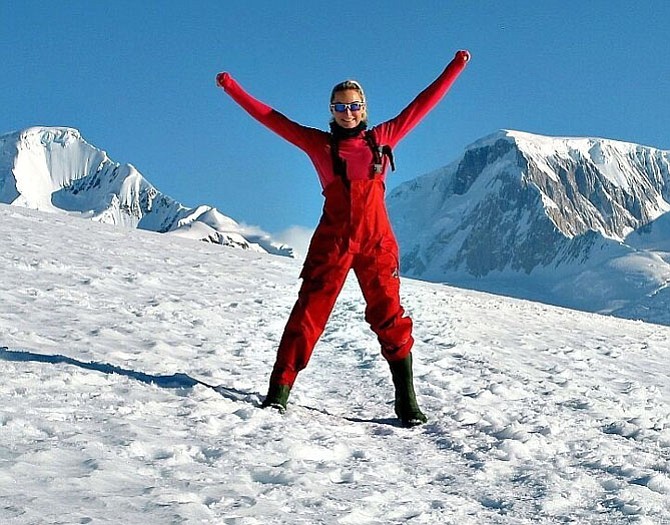 With the holiday season upon us, it's important to take steps to help manage our health and the extra pressures that often accompany the season. I know from first-hand experience as a runner and from working with thousands of kids across Alexandria, that exercise helps us feel better, keeps us on our game and reduces stress. Here are some quick and easy, family-friendly tips to get your heart rate pumping this season.
Whether it's before or after a holiday meal, or during a day when the kids aren't in school, Alexandria's parks and playgrounds are a great way to get out and get active while enjoying our city. A few of my favorite parks are those that RunningBrooke supporters and volunteers helped make possible.
Taney Avenue Playground and Park: Completed in fall 2016 and just off Duke Street behind the Fox Chase shopping center, this renovation project (designed and guided by the city's Department of Recreation, Parks & Cultural Activities), includes play equipment, walking paths, benches, tables and plenty of space for the whole family to get out and get moving together.
Hume Springs Park: Completed in 2015, this playground in Arlandria was completely renovated and revitalized. There is plenty of play equipment, benches and space to bring the whole gang.
Arlandria Fustal Court: Last spring, we began the process of transforming an existing derelict tennis court into a fustal court (an all-ages, fast-paced version of soccer that's played on a hard court). Stop by the court, located behind MOM's Organic Market off of Mount Vernon Avenue, and bring your basketball to shoot some hoops and enjoy the beautiful garden area. This site will be home to a brand new playground in 2018.
If you're heading out of town this holiday season, or need an indoor plan, take an exercise break to help manage the stress of changed schedules. These family-friendly exercises can be done in the airport, when you stop to refuel your car, or anywhere that is safe to get out and move around. The idea is to get up and moving, get your heart rate up, stretch your body and have some fun.
Jump in place as if you are popping popcorn.
March in place and pretend to play the drums as if you are in a marching band.
Hope on one leg for 10 hops, then the other for 10 more.
Do lunges and big arm circles.
Reach up as if grabbing balloons out of the air.
Jog in place as if a big, scary bear is chasing you.
Shake your body as if you are a wet dog.
Whether you're on the road or staying right here in Alexandria, getting family and friends active together is a great way to stay on top of your game and build healthy and happy holiday memories.