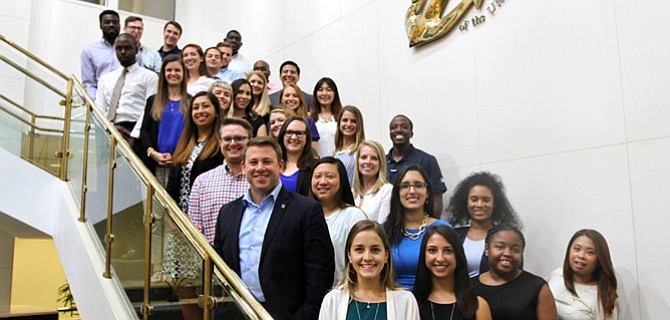 Leadership Center for Excellence welcomed its newest class of the Young Professionals Program as it gathered for the first time at a day-long retreat on Sept. 14.
Bean, Kinney & Korman, PC hosted the launch session for this four-month program that focuses on civic and philanthropic awareness to promote community engagement throughout the D.C. metro region. Thirty-one participants were selected to engage in the 10th session of this experiential program for leaders in the region. Through its three leadership programs, Leadership Center for Excellence has graduated 1,400 leaders representing over 600 organizations across the region.
The Young Professional Program Fall Class of 2016 includes: Danielle Altenburg, Animal Welfare League of Arlington; Isabel Andrews, Capital Impact Partners; Tony Barr, Arlington County Fire Department; Eliana Briceno, Council on Foundations; Patty Costello, Virginia Hospital Center; Lawson Craighill, Bridges to Independence; Kelsey Crittenden, Buck & Associates; David Dunston, The Vinyl Institute; Jeffrey Ekoma, American Association of Colleges of Pharmacy; Veronica Floyd, Doorways for Women and Families; Gresh Harkless, Blue 16 Media; Evan Isaacs, The Clearing Inc.; Jane Kim, Arlington County Government; Chelsea Kirkland, Arlington Public Library; Shania Lin, World Wildlife Fund; Mary Little, Enterprise Knowledge, LLC; Jamie Maldonado, Accenture; Kyle McCandless, APAH; Christa McMahon, Marymount University; Keleigh Neyhart, A-SPAN; Darrel Philpott, Arlington County Commissioner of Revenue; Scott Reamy, Dominion Resources; Zack Spaeth, AFAC; Lauren Spear, CSRA, Inc.; Katie Styles, Marymount University; Katie Sullivan, Penn State University; Juan Tababary, ACFCU; Hilda Tajalli, CSRA, Inc.; Serge Tare, Accenture Federal Services; Aaron Wajsgras, The Boeing Company; and Cicely Whitfield, Bonder & Amanda Johnson Community Development Corporation.