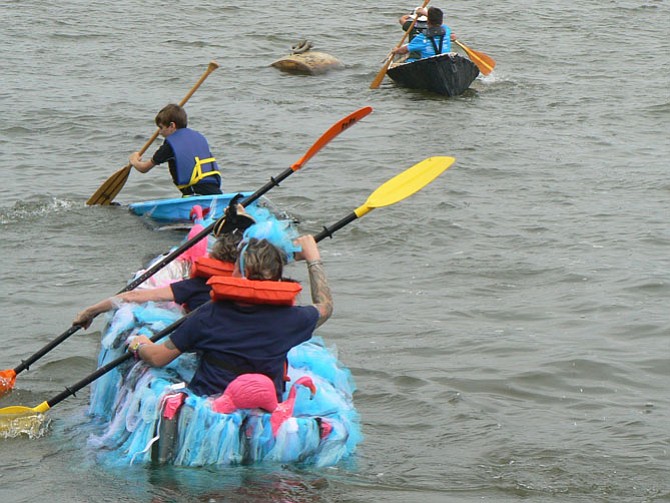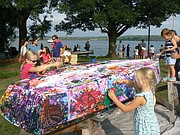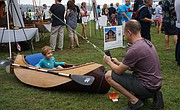 Handmade wooden boats, an "anything that floats" race on the Potomac River and a 12-foot white skiff that served as a blank canvas for children were all part of the festivities as the Alexandria Seaport Foundation hosted its annual Seaport Day Sept. 17 at Waterfront Park.
"This was our best-ever public turnout," said ASF executive director Steve Mutty. "We had eight exhibits, two bands, an awesome food tent, fun activities and over 700 people, at least 150 dogs and about 50 baby strollers."
The Alexandria Seaport Foundation is a nonprofit organization established in 1982 to honor the city's maritime heritage and culture. It has grown to serve at-risk youth through adult mentoring, project-based learning and the nationally recognized Boat Building Apprenticeship Program.
"This event is less about having our hand out the whole time and more about just making it one of the most enjoyable public events of the year for the community, particularly for the kids," said Kathy Seifert, ASF vice president of development. "We want to accentuate the connection ASF has to the river, boat-building and Alexandria's maritime history."
Other attractions included Colonial craft and weaving demonstrations by historic interpreters, build-a-model-boat for children, a rubber duck derby and live music performed by 50-Year Storm and Tommy and the Bahamas.
Sponsors of the event included Canal Center owners American Real Estate Partners, Sotheby's International Realty, Alphagraphics and Giant Food.
"Before I was hired as executive director, I first became a supporter of the Seaport Foundation because of my fascination with our floating workshop and this wonderful annual Seaport Day," Mutty said. "Now I get to preside over the event. It's like a big party of our ASF family and friends in Waterfront Park. I had a blast."

For more information, visit www.alexandriaseaport.org.