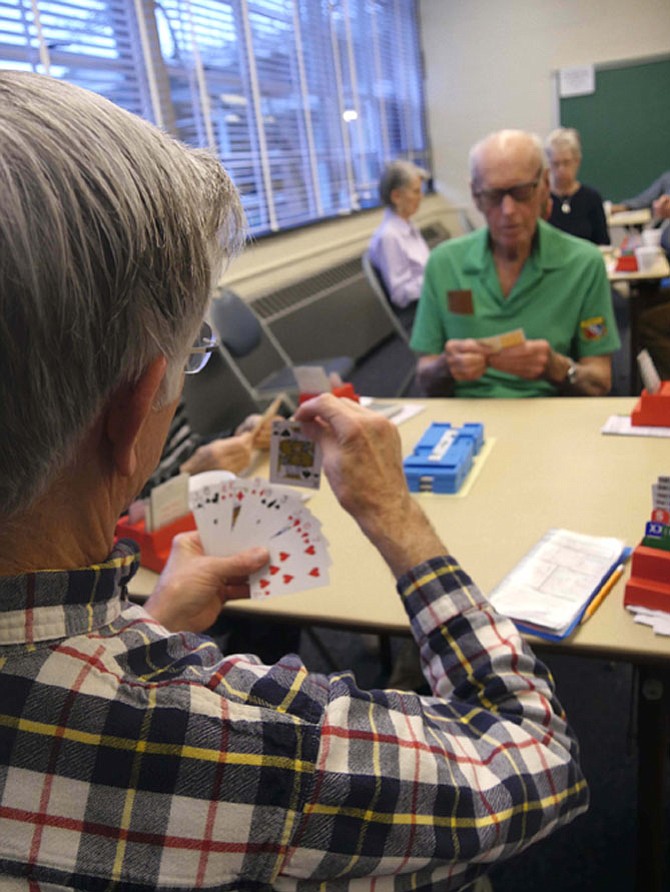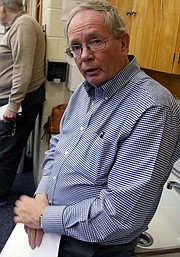 Dark clouds and heavy rain didn't deter the 9 1/2 tables of duplicate bridge players from showing up at Madison Senior Center in Arlington on Friday, March 31. Complete silence envelops the room as furrowed brows concentrate on the cards in their hands. An occasional "both of the kings are off" or "I knew I should have stayed home" penetrates the silence.
Mike Zane, coordinator of the group and an American Contract Bridge League (ACBL) certified director said, "we've been going ... well, it's got to be at least 10 years." Zane said that bridge was big in the 1930s-60s. "If you watch any old film, even a war film, you'd see a bridge game. Even Ian Fleming played the Earl of Sandwich in a James Bond film. But," he continued, "it's lost its flavor."
Zane said it used to be that in the military academies the two required extracurricular classes were ballroom dancing and bridge, two important social skills.
Zane looks around the room and pulls out a long computer sheet of names. "The players at the tables go up (clockwise) and the board goes down (counter-clockwise.)" He explains each player has 13 cards and you play with a partner against the other two players at your table. The highest card wins. Each table will rotate and play the same set of cards. The object is 24 hands or 24 problems to solve. "It's the easiest game in the world."
The duplicate bridge group plays on Fridays from 10 a.m. to 2 p.m., about the time it takes to play one game with a half hour lunch break. Zane says he started playing bridge because his mother, father, and sister played. "Bridge takes four people."
In European high schools every student is required to take bridge according to Zane. "I am interested in getting bridge into schools in America. That's the only way it will survive."