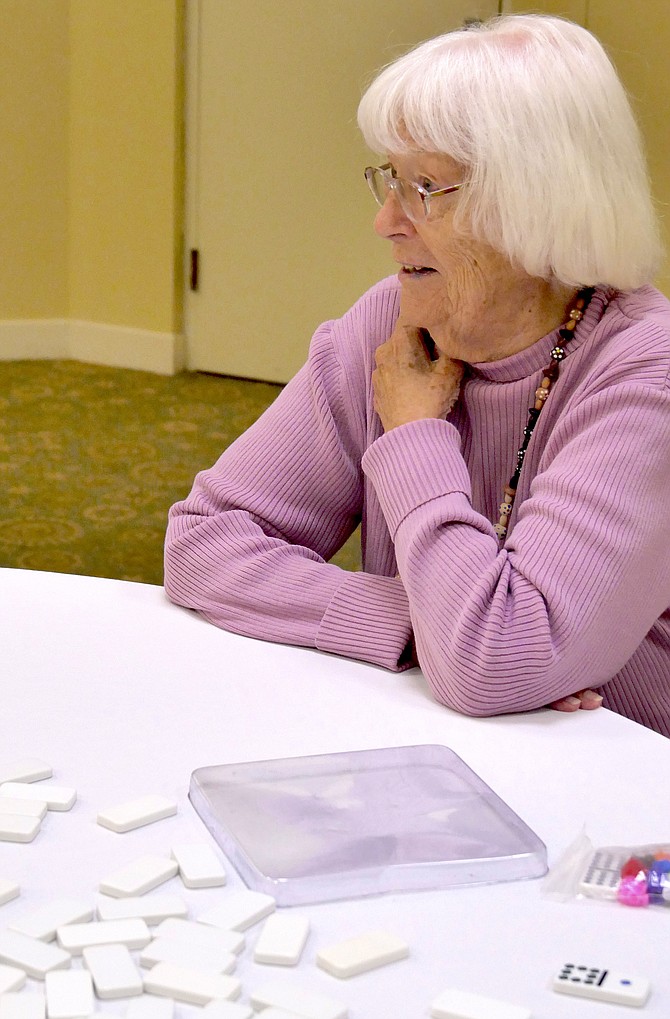 Five women sit around a table at Goodwin House at Bailey's Crossroads on Thursday, Sept. 19 concentrating on their pile of white domino tiles. Four other competitors sit at a nearby table.
Eva Sorensen from Alexandria says, "I have been playing in Northern Virginia Senior Olympics (NVSO) since 2011. I've got a box this big of medals." At 96 years old, she is the oldest competitor in this year's Mexican train dominoes competition. Sorenson has already competed this year in the 60-meter track event, bowling and cribbage.
Meredith Raine from Springfield says this is her first year competing. "I didn't even know it existed." But she plays with her old college friends a couple of times a year. "We didn't use these rules at all. We played that everyone could start a Mexican train."
"No," Ruth Krulfeld, who lives at The Jefferson in Arlington, assures her. "Just one Mexican train." She says the rules really sound a little complicated at first, but you get used to it. Sorenson asks to see a copy of the rules to refresh her memory. Virginia Biafore, who also lives in Arlington at The Jefferson, says she plays in a weekly group there, "and I really enjoy it."
Riley Geary, the events coordinator, tells the group to draw 14 dominoes each instead of the usual 15, since there are five players at the table. "Otherwise there are not enough dominoes left for the bone pile. Who is going to be the scorekeeper?"
Julia Jeffries, who also lives in Arlington, says, "I guess I'll do it. I do it a lot." Jeffries is in her second year of competing at Mexican train dominoes. "It's fun. There's always someone better than you."
Raine replies, "That's what I'm afraid of."
Each lady draws 14 dominoes and sets them up in a row so none of the other players can see them. Krulfeld says, "it's partly a game of strategy but a lot is the luck of the draw. O.K. we go clockwise." She says she plays Mexican dominoes for fun. "I say it has to be fun or don't do it."
Each woman has drawn a double twelve and begins her own domino train in the center of the table. The game has begun.
"We need a bone yard we can reach over here. Could someone move the dominoes closer so we can all reach them on this side of the table?" Krulfeld announces, "I'm going to start a Mexican train. That gives people two options." Geary says it will take about an hour, and the winners will go to the final round, which will also take about an hour.
Geary is the event coordinator for five of the NVSO events this year.
"Yesterday, we had 30 competitors in the jigsaw puzzle event, a new game this year. "Each person got a picture of their puzzle and the pieces to complete it. "They had two hours to complete as much of the puzzle as they could. "Seven completed their whole puzzle."