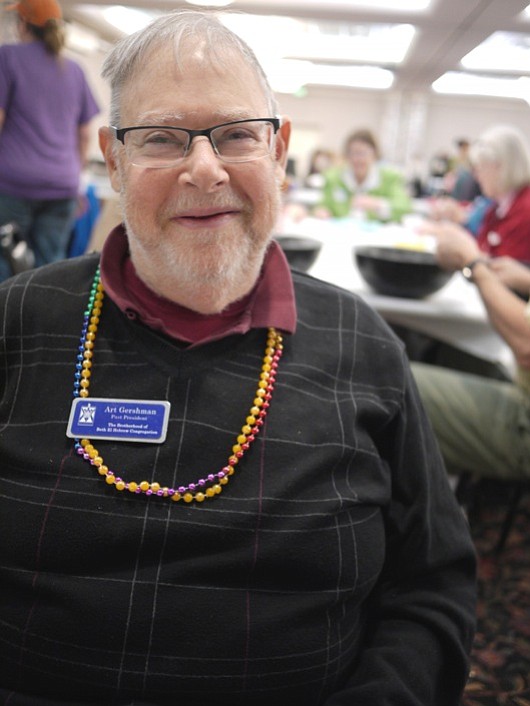 Mike Oliver says he retired in 2000; he and his wife, Linda, spend 364 days a year doing good things. They work with ALIVE (ALexandrians Involved Ecumenically) and St. Clement's Church, and in November and December, Mike takes advantage of his naturally twinkly eyes to bring joy to children in the area embodying Santa Claus. But on the 365th day, he says, they do something really amazing: they save lives. They spend six hours filling small sandwich baggies with rehydration salts and sugars at the Temple Beth El Synagogue, along with other volunteers, many of them over 55.
Bobbi Gershman, who oversees the project, says she got less of a turnout this year than last. They will only be able to package about 15,000 sachets of rehydration salts. She likes it better when the room is overflowing and she gets numbers like 20,000 sachets; but every little bit helps, she says. For Gershman, it's almost a full time job to run the event, and every year when she starts out, she feels it is too much work for her. But within weeks she is energized by the thought of what a difference they are making somewhere in the world, and by the time the day comes, and she puts in a really long day from about 7 a.m. to 6 p.m., she is motivated to do it again another year.
Flo Broussard, 88, who lived in Arlington from 1960 until four years ago when she moved to Goodwin House, said she is a lifelong volunteer. She has volunteered for WETA, The White House, Alexandria Hospital, and several other organizations before she "retired" to Goodwin House, where she volunteers, both doing plantings and making crafts for sale to benefit local charities, but also doing things like this rehydration project.
Gershman said she hopes she gets more volunteers next year: she will have to return a lot of salt. Sponsors for the event were Beth El Brotherhoods, Beth El Religious School Children, Immanuel Church on the Hill, Rabbi's Good Deed Fund, and Harris Teeter.
To volunteer next April, check the Temple Beth El ALexandria website, or join ALIVE, www.ALIVE.org.