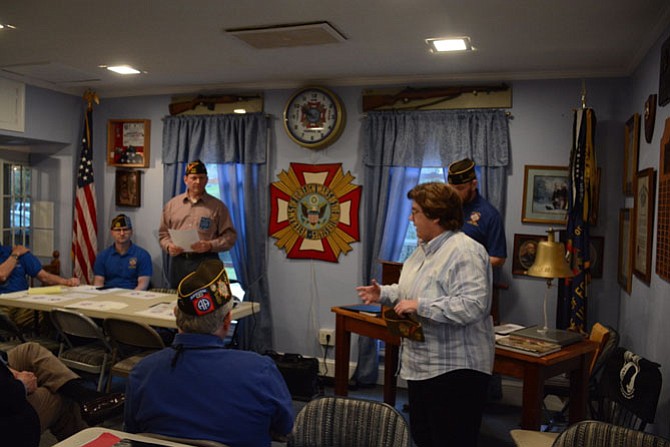 Springfield — Fairfax Station resident Steve Hunt said as an old navigator for the U.S.
Navy, where you come from and how you got there are just as important as where you're going. That's why, he said, he and the other members of the Veterans of Foreign Wars Post 8469 in Fairfax Station were happy to recognize three teachers of the year from Fairfax County making extra efforts in teaching history.
"For molding fresh minds," Hunt said, "the history of America, of patriotism, is so critical."
Members of the post selected one elementary school, middle and high school teacher to receive recognition and a $200 award. The awards were presented April 3 at the post headquarters (built circa 1890).
From Laurel Ridge Elementary School in Fairfax, the VFW was impressed by teacher Theresa Early creating a fourth grade color guard to accompany the school's daily pledge of allegiance to the American flag.
Early said she also uses old pieces from her grandfather's military uniform to inspire her students.
"They need to see and hold things" she said, "to help learn and remember. I teach by doing, using objects."
Early was also selected as the the VFW District 10 Elementary School Teacher of the Year.
Evan Kalinkos teaches seventh grade history at Robert Frost Middle School in Fairfax. He's hosted online history debates, and also brings in military members to speak with the students.
Joe Momorella connected with Kalinkos during the dinner that preceded the awards, with food donated by Dolce Vita Cucina Italiana in Fairfax. Kalinkos once had Momorella's sister Maryanne as a business teacher at Palisades High School in Pennsylvania.
"Teachers are the foundation, connecting the older part with the younger part," said Momorella, who was on the selection committee for the VFW teacher awards. "We want history to stay. Think about what's not being taught."
The final awardee, Joshua McNabb, teaches U.S. History and U.S. Government at W.T. Woodson High School in Fairfax. He has students complete an historic site visit as well as organizes a special recognition for veterans of Vietnam on Veterans Day.
"It's great to be rewarded for challenging kids," McNabb said, "challenging them to be Americans, to answer the question of what it means to be American."
Fairfax County School Board member Megan McLaughlin attended the ceremony — coincidentally all three awardees came from schools in her Braddock district.
McLaughlin said she was pleased the VFW was honoring teachers, who have chosen "a very challenging career, with long, long hours."
Being the daughter of a history teacher and veteran, and a history major herself, married to a history major, McLaughlin said made the event "really special."
For more information about the VFW Lorton Post 8469, visit www.vfwpost8469.org.