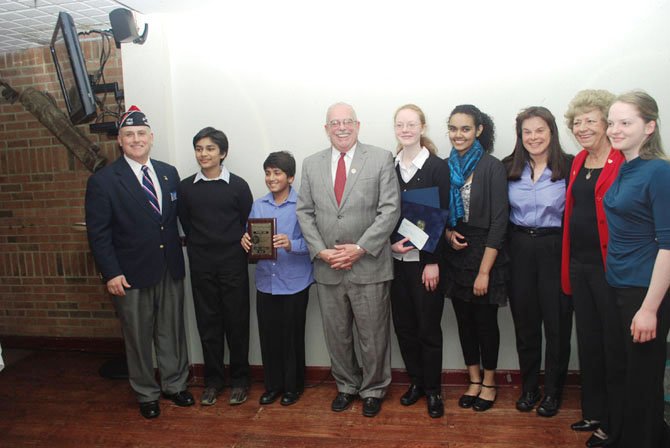 Paarth Jain, a sixth grader at Keene Mill Elementary, woke up early on Sunday to catch his 4 a.m. flight with his family from Miami to arrive at home in Springfield for a very special event he could not miss: the Springfield Veterans of Foreign Wars (VFW) Post 7327 and the Ladies Auxiliary awards ceremony honoring local students, a teacher, public safety officials and businesses at JW & Friends Restaurant in Springfield on Sunday, Feb. 12.
"The Veterans of Foreign Wars believe strongly in good citizenship and fostering patriotism in the leaders of our future," Post Commander Gary Kelch said. This is done through their annual patriotic programs: the Patriot's Pen Essay Writing Contest and the Voice of Democracy Speech Competition. "We encourage youthful minds, grades 6-8, to examine our nation's history through their own experiences and modern society through our Patriot's Pen Essay Writing Contest," Kelch said. Each year for Patriot's Pen, VFW announces a theme. This year's theme was, "Why am I proud of my country?" Each student participating was required to describe that topic in 350 words or less. Post 7327 received 72 written entries. Three community members, not VFW members, judged the entries.


THIS YEAR'S FIRST PLACE WINNER was Paarth Jain, a sixth grader from Keene Mill Elementary in Springfield. He received a plaque and a $150 check each from Post 7327 and Ladies Auxiliary. Jain read his winning essay titled, "America, the Land of All" out loud:
"All of us are USA together. Not just because we live there. We are part of it because of the experience. We are joined by the freedom. We are similar because of our rights. We are connected by the government. And although we may speak different tongues and have different faces, we will always be the soul of America."
The audience cheered and applauded as Jain ended his essay.
U.S. Rep. Gerry Connolly (D-11) who was also present at the event said, "You got it. You got what America is."
Connolly presented each awardee with a copy of a Congressional Record certificate. "Not everything we do in Congress passes unanimously, but I'm very proud of the fact that I put in the Congressional Record a certificate honoring VFW Post 7327 but also all of the honorees today, and there was no objection," he said.
The first place winner in both categories [Patriot's Pen and Voice of Democracy] is forwarded to district-wide competition. District 10 for the Veterans of Foreign Wars in Virginia, runs from Dale City to Leesburg. This year's Patriot Pen winner from Post 7327, Jain, has also placed second in the district and next week will be honored at the VFW district meeting. Winners from the district advance on to state-wide competition between the 13 districts in Virginia. And winners of the state of Virginia advance on to nationals where they compete among winners from the 50 states, the overseas territories, and posts that are in foreign countries.
When asked how he felt about winning first place, Jain responded, "I feel ok. My teacher made me do the essay." "I feel excited," his mother, Komal Jain, said.
Second and third place winners of the Patriot's Pen contest were Brielle Perry and Nithin Bagal, they both attend Keene Mill Elementary as well.


THE VOICE OF DEMOCRACY competition is open to students in grades 9-12. The theme for this year's program was, "Is there pride in serving in our military?"
Entries for Voice of Democracy must be recorded, verbal speech, and not to exceed five minutes and be submitted on a tape or CD. Post 7327 received seven entries for this year's competition.
This year's first place winner was Hanan Awel, a 12th grader from Lee High School in Springfield. Awel received a plaque and a check of $150 each from Post 7327 and Ladies Auxiliary. She read her winning speech to the audience.
Second place winner was Gwendolyn Cardiff and third place winner was Megan Marriott, both home schooled students from Alexandria.
Each year the VFW seeks to recognize an elementary, junior high, and high school teacher for their "outstanding commitment for teaching Americanism and patriotism to their students and to promote America's history, traditions, and institutions effectively throughout the year."
This year, the teacher of the year award was presented to Sheila Bruen, a physical education teacher at Angelus Academy in Springfield. She was nominated for the award by a parent, Mary Hansen. Bruen received a specially designed crystal apple award, a certificate, and two checks each in the amount of $200.
She felt "honored and blessed" to win teacher of the year. Her husband, Tom Bruen, thought the occasion was wonderful and that it was "nice to be recognized."


PUBLIC SAFETY AWARDS included: firefighter, police officer and emergency medical technician of the year. All three awardees received a plaque and a $200 check each from Post 7327 and Ladies Auxiliary.
Firefighter of the year was Tom Baldwin who is from the Springfield Volunteer Fire Department. He was nominated for this award by Fire Chief Blake Pain.
Baldwin has worked as a firefighter for the past four years. He describes being on the job as "excitement of not knowing what's going to come. It's like a mystery box," Baldwin said.
His parents who were also present at the ceremony felt very proud and honored. "I wish I could have done something like this myself," his father, Vince Baldwin said.
The Emergency Medical Technician (EMT) of the year was Sgt. Brian Witt who is also from the Springfield Volunteer Fire Department and was also nominated for this award by Pain.
"I'm especially proud of Tom and Brian because I'm also an administrative volunteer for the Springfield Fire Department," President of the Ladies Auxiliary, Linda Bond said.
The police officer of the year was Scott MacCaskill from the Franconia District Police Station.
Local businesses and individuals were also honored with certificates for their contributions to VFW Post 7327's programs. These included: Karen Stone of JW & Friends Restaurant and Driver's Lounge; Ron Bullock of Springfield Trophies; John O'Leary of Benjamin's Restaurant; Scott Brown of Cardinal Plaza Shell; Fischer Hardware; and the Northern Virginia Surgery Center and Staff.