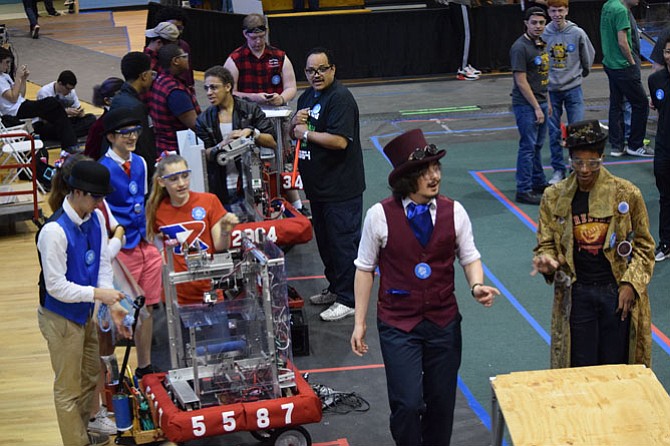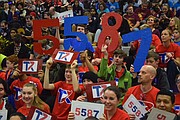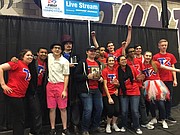 Last month, the T.C. Williams Titans competed in front of a packed-gym crowd at South River High School in Edgewater, Maryland. In the first quarterfinal match of the weekend competition, however, there was not a student to be found on the game field, a full size basketball court. In fact, during the match, for safety reasons, humans aren't allowed beyond the low metal railing surrounding the green-carpeted game field. Here two teams of robots squared off in the 2017 FIRST Chesapeake District Central Maryland Event of the FIRST Robotics Competition.
"Red Alliance!" shouts a group of spectators, clapping in rhythm. "Blue Alliance!" comes the response from nearby, in an oft-repeated chant. In control booths students wait behind a line separating them from their wireless controls during the opening, autonomous phase of the two-and-a-half minute match. Teammates stationed on two platforms above the field anticipate the robotic delivery of game pieces to earn points. For 15 seconds, the 100-pound metal athletes will depend solely on students' planning, design, and programming. Each has a unique solution to the tasks of collecting plastic "gears" to hang on carriage pegs and picking up balls to empty in a hopper. Then the drivers will take control, their robots speeding across the field in a frenzy, blocking, colliding, and sometimes losing components. In the last 30 seconds they will head for their home platform, to climb a rope five feet into the air.
Each year, the international FIRST Robotics Competition challenges competing high school teams to design and build a robot in six weeks to take on that year's unique game and rules. This is its 26th year, and the third year that Titan Robotics, Team 5587, has competed. At the end of 80 qualifying rounds, Titan Robotics was ranked first, undefeated at 12-0-0. They would have the first pick for alliance-mates of the eight quarterfinal alliance captains.
In the first match of their best-of-three quarterfinal, Titan Robotics leads the red alliance, which includes 17-year competition veteran Cavalier Robotics from Charlottesville and 11-year veteran Dogs of Steel from Chantilly. At the start, for most of the autonomous phase, red leads 70-15, but at the last moment blue posts 60 additional points. The drivers leap to the controls and within seconds the field is littered with bright yellow balls, strategically dumped to impede opponents. Alliance-mate Cavalier has impressive agility thanks to its swerve-drive propulsion, and like the Titans, their robot is tall and narrow, an advantage getting around in the tight spaces between the gear-loading area and the platform, as well as in rope-climbing, which yields the most points. As the match progresses, the scoreboard shows blue jumping ahead, then red evening it up. Then, with a minute to go, a disaster. As robot 5587 approaches to deliver a gear, blue opponent 686 collides and upends it, leaving it helpless on its side. It won't get to climb, and the red alliance loses 250-331. In the follow-up match, the red alliance is bested again and eliminated.
Titan Robotics has been a strong performer this year, with a solidly built robot. Finishing sixth out of 40 teams at Edgewater, and with an overall 2017 record of 22-6-0, they have earned their place at the District Championship April 5-8 at Virginia Commonwealth University. The team will continue to make adjustments to the robot, which they may only modify at designated times during tournaments. Until the championship, the robot must remain untouched and "bagged."
In Richmond, Titan Robotics will be competing against bigger, more established teams. While they are fortunate to have TechShop in Crystal City as sponsor, and thus discounted memberships to use fabrication tools on weekends, other teams have daily access to school engineering shops, major corporate sponsors and mentors, and enough funding to build two robots, one for competition and one to test modifications before applying them.
Titan Robotics is undaunted, and they continue to push the envelope. Short on resources and history, they are long on gumption. To raise funds, they have started ACT for Alexandria's first student-run Spring2Action campaign. In the community, they have taken part in the T.C. Williams Science Night for Families, Barnes & Noble's Mini-Maker Faire, and Young Women in STEM presentations, and they have mentored the elementary school First Lego League team Fly Minds. And they received the Team Spirit Award at the Northern Virginia competition.
The championship in Richmond will be livestreamed online at https://livestream.com/LeeHartman/DistrictChampionship.