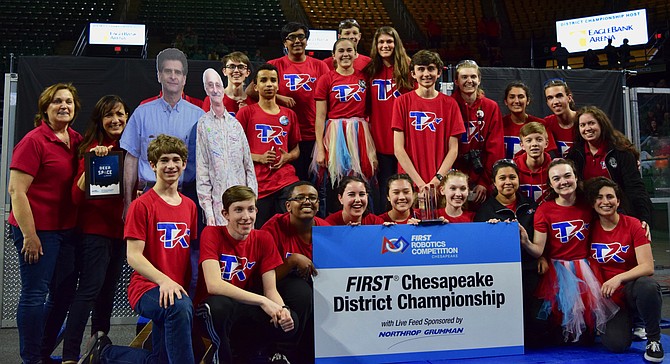 The T.C. Williams FIRST Robotics Team, Titan Robotics (FRC 5587), competed in the FIRST Chesapeake District Championship April 11-13 at the EagleBank Arena at George Mason University. The team advanced from district competition, qualifying for the FIRST Championship in Detroit by winning the Chesapeake District Engineering Inspiration Award.
The FIRST Championship is the world's largest celebration of STEM for students. The 2019 event brings together tens of thousands of students from around the world who participate in FIRST K-12 robotics programs – along with educators, industry professionals, sponsors, organizations, and colleges/universities who support them – for a celebration of STEM inspiration.
At the District Championship, Titan Robotics competed with their robot, qualifying for the semifinals, but was edged out of the elimination tournament in a tie breaking match. Out of the 126 teams in the DC, Maryland, and Virginia region, only the top 58 advance to the District Championship and only the top 21 advance to the FIRST Championship. Due to both Titan Robotics' robot performance and awards, they finished 16th in the district, qualifying to the FIRST Championship both through their district ranking and the Engineering Inspiration award, which is an automatic invite.
Titan Robotics' FIRST Chesapeake District Engineering Inspiration award "celebrates outstanding success in advancing respect and appreciation for engineering within a team's school or organization and community." The criteria include the extent and inventiveness of the team's efforts to recruit students to engineering; the extent and effectiveness of the team's community outreach efforts, and a commitment to science and technology education among the team, school, and community over the course of a year, not just during build season.
Titan Robotics developed an outreach strategy that includes starting and mentoring FIRST teams at ACPS middle and elementary schools and developing five summer camps. In addition, students run robot demos and STEM activities at community events and engage local businesses to help sponsor their activities. The team charges no fees to its participants, so it applies to grants from local and national corporations to fund their team's operating costs. Most recently, Titan Robotics helped six Title 1 schools in ACPS apply for robotics and computer science grants through Amazon's Future Engineer Robotics Grant program. All six schools received funding and will be starting FIRST Lego League teams in the fall.