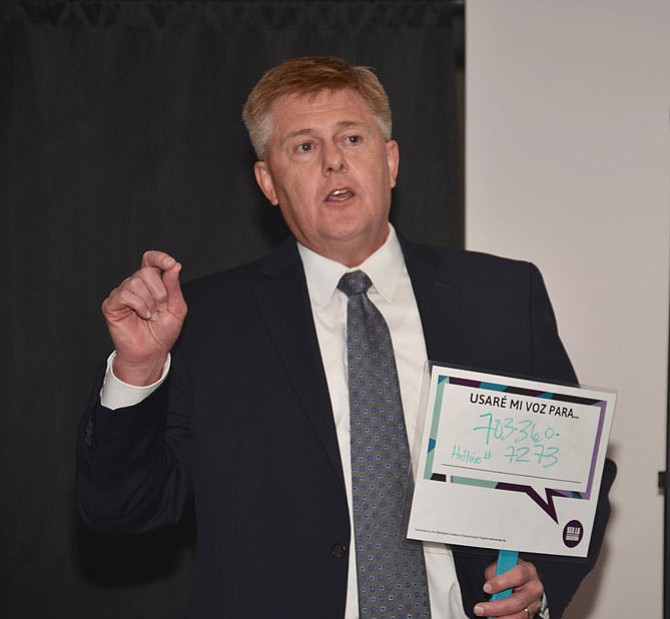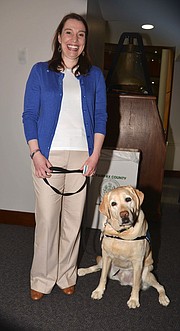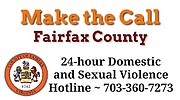 "Everyone in this room knows someone who is the victim of domestic violence, whether you know it, or not," said Braddock District Supervisor John Cook, "that's how widespread this problem is." Cook, who is the chair of the Board of Supervisors Public Safety Committee, and recently appointed chair of the Domestic Violence Prevention Council, was speaking at a reception at the Fairfax County Government Center to launch the "Make the Call Campaign."
The year-long initiative was designed by county staff and domestic violence prevention partners to encourage victims, offenders and bystanders to call the county's 24-hour Domestic and Sexual Abuse Hotline at 703-360-7273.
Cook was joined by speakers from several county agencies, as well as his board colleagues Supervisor Cathy Hudgins (D-Hunter Mill) and Chair Sharon Bulova. Law enforcement was represented by Fairfax County Sheriff Stacey Kincaid and Deputy Chief of Patrol Erin Schaible of the county police department.
The launch date of the campaign was chosen to coincide with the Board of Supervisors' designation of April as the month for Sexual Assault Awareness and Child Abuse Prevention.
Cook is not concerned that the messages might get mixed by putting the two issues together in one month, because he sees them as often interconnected, and frequently stemming from the same root causes. The departments represented at the launch often work together on individual cases and cross paths almost daily in the performance of their duties. Several of them, like SafeSpot, the child advocacy nonprofit that provides a family-friendly, centralized location for the investigation of child abuse and assistance in coordinating services, and CASA, the court appointed special advocates program for abused, neglected and abandoned children and youth as they maneuver through the court system, have formed working collaborations to best serve their clients needs and provide the most coordinated of services.
Hotline operators receive about 240 calls per month. From those calls, about 64 per month seek family abuse protective orders and 13 families are placed in domestic violence shelters. There are about 160 domestic violence related arrests made each month in Fairfax County, and as law enforcement knows, and Cook noted, domestic violence is the leading cause of homicide in the jurisdiction.
"If you are the victim, make the call," said Cook. "If you think you know someone who is being abused, make the call." The hotline is staffed 24-hours a day and "they are the experts," Cook added. "They will know how to help, what to do. Make the call. Maybe you can help save someone's life."