Burke — Lake Braddock choir students aren't preparing just one musical this spring;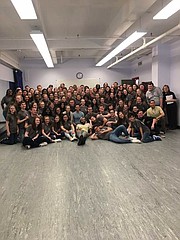 they're putting on a smorgasbord. For the third year, members of the secondary school's five choirs will perform one Broadway hit after another, in solo, duet, ensemble or full group settings.
"Dessert on Broadway" is scheduled for April 22 with a pair of performances in the afternoon and evening.
Director Mary DeMarco said the choir boosters used to do an annual fundraiser in the form of a family fun night with games, a silent auction, etc. "Why don't we do what we do well," DeMarco remembers thinking, "which is perform?"
By opening the program to a la carte acts rather than one major production, DeMarco said it is more conducive for getting all five choirs to perform, as well as special acts that are featured throughout.
ONE-THIRD of choir students don't have time to participate in a full production, she said, due to other clubs or sports. With the short preparation time required for this show, by comparison, it gives those students more opportunity to take the stage.
"Everyone gets a chance to shine," said Lake Braddock junior Audra Heyne. "Since it's Broadway, they're very big numbers. We like it a lot."
The Fairfax Station resident said she'll be singing in a duet from "Guys and Dolls."
"You get a little taste" of a variety of musicals she said, from the classic "Les Misérables" to recent hits "Hamilton" and "Dear Evan Hansen."
The concept was so popular the first two years, they've had to relocate it from the school's cafeteria to the "Little Theater" to accommodate more attendees.
The choirs have Broadway the place fresh on their minds, after nearly 100 members traveled to New York City to compete in a national festival with songs from their district-level assessment.
Students attended a Broadway show and participated in a workshop with members of the "Aladdin" cast.
"We were in a building where Broadway auditions were going on as well," Heyne said. "It was really cool to see that culture going on around us."
Sophomore Morgan Kelso of Burke said she was definitely motivated to become a better performer. "You can add a little of what they're doing … in a high school production or community production."
Kelso is planning to sing "The Wizard and I" solo from "Wicked."
In fact, students plan to open "Dessert on Broadway" with a dance number they learned in the workshop.
THE "DESSERT" component comes in the form of finely plated (catered) confections, which the students and organizers say are part of the glitzy atmosphere they're hoping to create for the event.
DeMarco said it's important that even the hallway outside the theater be decorated to not look like you're at a school. But more like "coming out to an evening, a professional setting, dinner theater," she said.
Last year, she continued, "just felt fancier. People dressed up. We built a stage for the performance with the skyline of New York City. You feel like you've gone to something, not a kids show."
Organizer and Audra's mother Nancy Heyne said the fundraiser of course is also "a good way for people to support the arts and see them grow.
"It showcases the many layers of talent we have at Lake Braddock." Heyne said. "These kids -- it's been really fun to see them year after year perform and get better. To see arts continue through these young people."
Kelso said she hopes for a big crowd from the community. "We love to share our singing with people who aren't just our families," she said.
"Dessert on Broadway" takes place Saturday, April 22, with performances at 1:30 and 7 p.m. at the Lake Braddock Little Theater, entrance 14. General admission tickets are $10 for the matinee with dessert available for additional purchase. Evening is $20 and includes dessert.