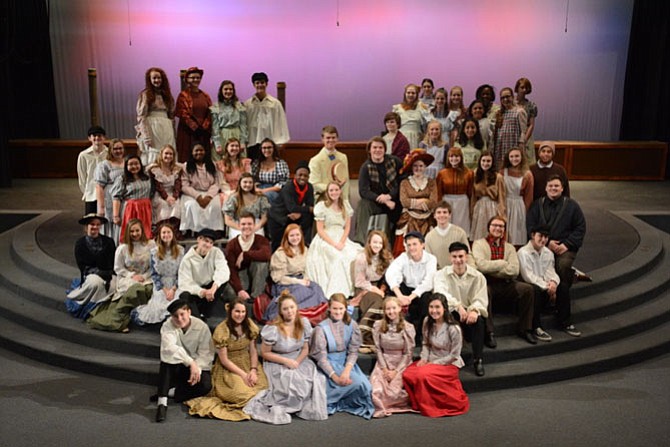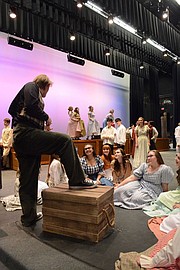 Where and When
"Carousel" opens Jan. 26 at 7:30 p.m. in the Little Theatre at Lake Braddock Secondary School, located at 9200 Burke Lake Road in Burke. Additional performances are scheduled for Friday, Jan. 27 at 7:30 p.m., Jan. 28 at 2 p.m. and 8 p.m., and Sunday, Jan. 29 at 3 p.m. Tickets are $12. For more information, visit www.brownpaperticke….
After having done family-friendly and modern shows in recent years, Lake Braddock Secondary School musical theatre director Mary DeMarco of Clifton decided "it was time to do a classic."
This month, a cast DeMarco said is the most vocally talented she's had since the 2012 production of "Les Misérables," brings to life Rodgers and Hammerstein's award-winning and musically demanding "Carousel."
"We have to be educational about it," DeMarco said, "we don't want them all to be the same era."
Richard Rodgers (music) and Oscar Hammerstein II (book and lyrics) adapted their show from a 1909 play by Ferenc Molnár called "Liliom," set in Budapest. They kept the plot largely the same, but relocated its events to the Maine coastline in America.
The pair's second musical, after the acclaimed "Oklahoma!," "Carousel" opened on Broadway in 1945 and saw numerous revivals over the decades in New York and London. It won the 1994 Tony Award for Best Revival of a Musical after that year's Broadway iteration.
THE STORY follows Billy Bigelow, effectively a carousel ride salesman known as a "barker," who strikes up a relationship with Julie Jordan, a millworker. Their romance ends up costing both of them their jobs. After learning Julie is pregnant with his child, Billy is tempted to join a robbery to provide for the coming family.
Along the way, Billy is given a chance to make amends for his crime and his temper, which has caused him to be physically abusive with Julie.
"The roles are more mature than most of the students are used to, they're dealing with mature themes," said Kelsey Tolbert of Burke, who serves as musical director for the production. Tolbert is in her first year teaching middle school choir at Lake Braddock. The cast includes eighth grade students through high school seniors.
"It's a thoughtful show," director DeMarco said. "We have Heaven... who today can say they're doing something with Heaven... and a second chance to do something right."
In one scene, the Billy becomes frustrated once more and slaps a hand, though this time it's his daughter's. She tells her mother Julie, and asks if it's possible for the action to feel like a kiss. Hammerstein wrote Julie telling her daughter yes, it is possible, and effectively rationalizing the violence.
In this staging, however, DeMarco said they decided to have Julie respond instead to the effect of, "No, it's never OK, and it always hurts."
"We have suicide in the show, we didn't take that out," DeMarco said. "We couldn't leave abuse in there. We wanted to get that message across. We're working with young men and young women. To choose this one message… shows integrity."
SENIOR Madison Hite, playing a relative of Julie's named Nettie Fowler, said the change was discussed at the very first cast meeting late in the fall.
"No one had an objection to it," she said.
Then it was on to the challenge of working up nearly operatic pieces of music that can last from seven to ten minutes at a time.
"It requires more work to sing," senior Tim Ellis admitted. "It's harder on the voice to sing these longer scenes."
Tolbert said the difficulty is not only one of endurance, but also complexity, with some scoring calling for eight parts to be performed at once.
"And they can hold that," Tolbert said. "The quality of the musicians putting this together is just impressive."
Hite said that while the music that includes classic songs "If I Loved You," "June Is Bustin' Out All Over" and "You'll Never Walk Alone" is a bear to work up, "it's absolutely beautiful.
"There's not one song in the show where you think, 'This isn't that good,'" she added.
DeMarco acknowledged "Carousel" was a bit less familiar to students than the recent production of Disney's "Beauty and the Beast." However, she said, "it's exciting to see young people do the classics," she said, "and bring it to life like it's their favorite show."