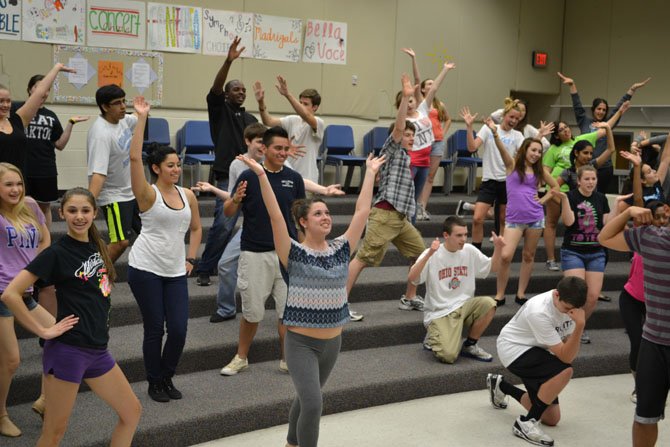 Centreville — Centreville High School's Choral Department will present "Broadway Pops," its final concert of the year, Thursday-Friday, June 7- 8, at 7:30 p.m., in the school's Skip Maiden Theater. Tickets are $5 for adults at the door; students are free.
The event will showcase all the choirs singing pop tunes and music from their Broadway repertory. The 145 students on stage have been rehearsing since April, and Choral Director Lynne Babcock says their performance is well-worth watching and hearing.
"I think they're absolutely brilliant, fabulously talented kids," she said. "They've been working very hard on learning the music, the choreography and the staging."
The entire Choral Department will perform the opening number, "Sing a Song," by Earth, Wind and Fire, as well as the finale, Journey's "Don't Stop Believin'." And the seniors will sing "Before We Part" by Deen Entsminger, Choral Studies director at Belmont University in Nashville, Tenn.
Four choirs will perform medleys from popular Broadway shows. The Women's and Men's Ensembles will do songs from "Smokey Joe's CafÈ;" the Concert Choir, "The Lion King;" Bella Voce, "A Chorus Line;" and Symphonic Choir, "Wicked."
The Madrigal Ensemble will perform "Lonesome Road" arranged by James Taylor, "Yesterday" by Lennon and McCartney, and "Chile Con Carne" recorded by the vocal jazz ensemble, The Real Group. The male choral students will sing "My Girl" by Smokey Robinson.
In addition, said Babcock, "One of the many fun things about the show is that we've got two, student-directed, a cappella groups that will also entertain." Contempo will perform "I'll Make a Man out of You," arranged for it by student director Emmie Dohse. And The Downbeats, under the direction of A.J. Bahktari, will do a medley of doo-wop pieces.
It's traditional each year to spotlight seniors by having them perform solos during the Broadway Pops concert. This year's senior soloists and their songs are as follows: Melissa Baba, "Little Wonders;" Emmie Dohse, "The Playlist" — her own composition; Katie Eichenberger, "When Will My Life Begin?" (from "Tangled"); Jessica Genoves, "What Makes You Beautiful;" Jacqueline Hogg, "Don't Touch Me;" Merrill Holmes, "Home;" Emily McLenigan, "If We Hold On Together;" Karen Orozco, "The Best Day;" Katie Rouleau, "Part of Your World" (from "The Little Mermaid"); and Tiffani Steele, "Fix a Heart."
Melissa Baba, Savannah Britt, Sarah Beth Seidel, Ally Soriano, Tiffani Steele and Nora Winsler are the student dance captains, and Richmond's Tara Penick staged and choreographed the Broadway numbers.
"It's a wonderful way to usher in the summer season," said Babcock. "A lot of the music is familiar, from Broadway shows; and two of these shows — 'Wicked' and 'The Lion King' — are still on Broadway. And 'A Chorus Line' is one of the longest-running shows on Broadway. All the pieces the choirs are doing are wonderful music and very accessible for all ages."