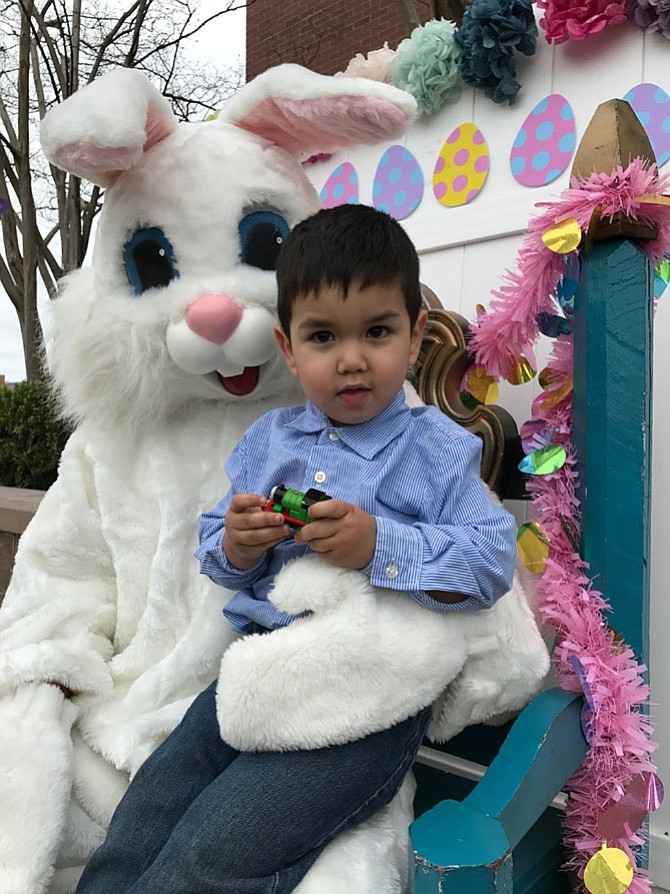 Children, parents and grandparents gathered together on Saturday, April 15 for one of the Town of Herndon's most popular annual events for children, the Herndon Easter Egg Hunt. The event was held on the Town Green behind the Municipal Center at 777 Lynn St., and adjacent to the W & OD Trail. Herndon Parks and Recreation produced the ticketed event that featured baskets of fun for everyone.
Even though egg hunts are a time-honored Easter tradition, they are even better when the date falls in mid-April when the grass is soft and green, and leaves are budding on the trees. Of course, no rain in the forecast and weather in the 60s makes the day perfect, and it was this year.
Before the families and a certain hoppity woodland creature made their way over to the Green though, Herndon Parks and Recreation staff and others, including a large team of volunteers, had been hard at work getting ready for the annual Easter egg hunt and activities.
When the children arrived shortly before 9:30 a.m. for the first egg hunt, there was so much fun they didn't know what to choose first. Choices included a photo opportunity with the Easter Bunny, at least for those children who wanted to check out the 7-foot-tall white rabbit with huge feet and floppy ears. There was a community-coloring mural, a tattoo shack, an instrument petting zoo, and a bubble blowing station.
Spring is all about new life, so Parks and Recreation offered the children opportunities to plant flower seeds in pots and take them home and a special hands-on attraction, the opportunity to pet live baby chicks, bunnies and goats brought over from Frying Pan Park by Dan Sullivan, Assistant Farm Manager. "It's been a great event. Incredible turnout," Sullivan said.
Of course, there were the events of the day — the egg hunts. Staff and volunteers tossed out plastic gift-filled eggs and candy before the countdown to each age group's start time. Although the hunts lasted only a minute or so, there were plenty of sweets and treats for everyone, with smiles all around. If all that wasn't enough, Duck Donuts was on hand selling their famous donuts (and coffee for the grownups).
Cindy Roeder, Director of Herndon's Parks and Recreation Department, said, "The Easter Egg Hunt has been a mainstay of the department. It brings families with their little ones out to enjoy a great spring day."
For more about events by Herndon Parks and Recreation visit herndon-va.gov/about-us/recreation/about-parks-recreation