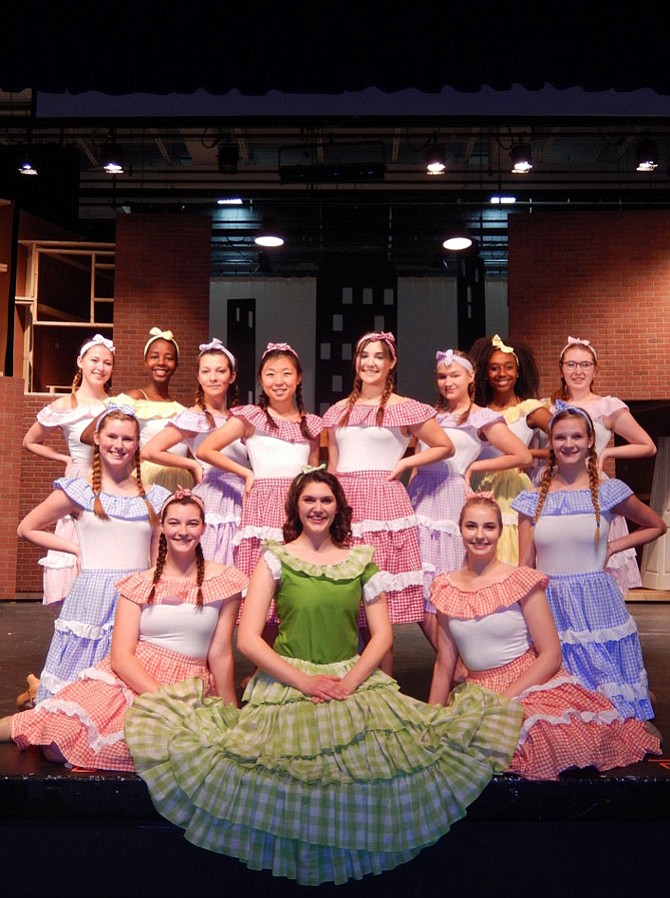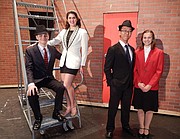 To Go
The curtain rises Friday-Saturday, May 5-6, at 7 p.m.; Sunday, May 7, at 2 p.m.; and Thursday-Friday-Saturday, May 11, 12, 13, at 7 p.m. The Cappies show is May 6. Tickets are available now at http://www.fxplay...">www.fxplayers.org. They are $10 online or $15 at the door.
It's 1950s New York, and gambler Nathan Detroit is having trouble finding a spot for his craps game. He needs $1,000 to pay someone to host it and hopes to win that amount by betting gambler Sky Masterson that Sky can't get virtuous Sarah Brown to date him. But she agrees to if he'll bring sinners to her mission. Meanwhile, Nathan's longtime fiancée yearns for him to marry her.
That's the premise of Fairfax High's upcoming musical, "Guys and Dolls." Full of memorable song-and-dance numbers, this romantic comedy is the school's Cappies show and will run two weekends, beginning May 5.
For the past three years, Fairfax produced new and contemporary shows. They attracted community members, plus students interested in modern material. But now, said Director Erich DiCenzo, it's time for a classic.
"'Guys and Dolls' has been one of my favorite musicals since 1997, when my sister performed it in our high school," he said. "I've seen the movie and the Broadway revival, and our students are capturing the show's heightened style and characterization beautifully. They've done research and in-depth character study to truly understand who their characters are, how they feel and even what they should sound like."
DiCenzo is in his fourth year teaching theater at Fairfax, and these are the first students he's nurtured all the way through high school. So, said DiCenzo, "This is very special to me; it's also why I'm excited to do a classic. It's important for me to send these kids off with an appreciation of and experience with – not just the new, pop-culture stuff – but a theatrical gem like 'Guys and Dolls.'"
Also praising costume designer Neva Sedlak and set designer Thomas Iodice, he said, "They each created from scratch beautiful works of art that not only show off the actors well, but highlight the hard work and brilliant intricacies their teams have pulled off. From 16-foot-tall, rotating 'dancing' buildings to 13 identical, 'magic' skirts – color-coordinated based on choreography – audiences will be delighted. They'll feel like they're strolling around Manhattan, themselves."
Senior Hayden Giles plays Nathan Detroit. "He's a quirky, happy-go-lucky and semi-romantic guy," said Giles. "He's always looking for his big break, but never gets it. He's been engaged to his girlfriend Adelaide for 14 years, but marriage isn't his priority, although he does love her."
HAVING FUN with his role, Giles said "Guys and Dolls" is his favorite musical because of both the music and the story. "Nothing goes well for Nathan, and that's what adds the humor to his lines and situations," he said.
Giles particularly likes the song, "Luck, Be a Lady," because of the tune. "It's a powerful song – probably the most popular song from the show," he said. "Overall, people will really like this show's choreography, especially our twist in 'Sit Down, You're Rocking the Boat.' And the comedy's great – nearly every line has a joke in it."
Portraying Sky Masterson is senior ZJ Jang. "He's the guy always in control," said Jang. "He loves playing craps and betting 'sky high' and is the luckiest guy – he always wins. He thinks about and plans everything, but relies on his luck. He's suave and charming, and his words can get him out of anything. He's confident in himself and in his luck."
Calling it the most challenging role he's ever played, Jang said. "I'm usually the character actor, not the leading man. But Sky's fun to play, in spite of and because of the challenges, because I had to dig deep to find out what makes him tick and how he got this way. And when it works, it's so cool. 'Guys and Dolls' is a classic musical with timeless and immortal music, so you've got to sing like you're crooning to the moon."
His favorite number is "Oldest Established," sung by all the male cast members. "Seeing the guys all being so energetic onstage together is awesome," said Jang. "They're pouring their hearts into every song and dance number, and this is a really fun song. The guys are thanking Nathan for always providing them their craps game."
Jang said the audience "will love this show for its class and timelessness. There's love and classic romantic comedy, and you have to do it right and know the spirit of the show – and we, as a cast, do. It's about the ridiculousness of love, and people will be impressed by the musical numbers and the character work. They'll appreciate how well the actors embody their characters and are always acting and reacting."
Classmate Tori Garcia plays Sarah Brown. "She has many sides to her and is one of the most dynamic characters in the show," said Garcia. "She starts off as this steadfast, Christian sergeant in the Save-A-Soul Mission and is passionate about the church and God. She always thought the man she'll marry won't be a gambler. But her passion eventually transfers from the church to love and she falls in love with Sky. She's never gone wild, a day in her life, but she finally gets to cut loose and express her excitement and joy."
Garcia said it's a challenge to transform over a short time period. "But it's been a joy acting with ZJ," she said. "I get to have both dramatic and comedic moments and get to show all of Sarah's different sides." Garcia especially likes singing "I've Never Been in Love Before" – the first love duet between Sarah and Sky. "She realizes she can marry somebody different from what she imagined and that love just snuck up on her," said Garcia.
She said people will love the show's energy and musical numbers. "This cast is filled with so many talented people, all equally utilized," said Garcia. "And the costumes are fantastic, with bright, vivid and bold colors. The audience will be really entertained."
PORTRAYING Nathan's love interest, Adelaide, is senior Emily Dillard. "She's the lead dancer at the nightclub, The Hot Box," said Dillard. "She's a little dimwitted, but makes up for it with her charm and personality. She's sweet, sensual and very lovable. She's hopelessly in love with Nathan and has been engaged to him for 14 years. She dreams of living in the country with him and lots of children."
Enjoying her role, Dillard said, "I love playing Adelaide; I love how sweet she is and how big I have to go with my characterization to show her charm. Everything she does is grand; and because she's so confident and has no cares in the world, it's freeing to play her."
Dillard likes singing "Take Back Your Mink" because "It shows off everyone's strengths, including our costume designers and choreographers, and the cast's dedication to the piece. It's fun to sing because Adelaide's making fun of herself, but doesn't realize it." All in all, she said, "People's individual personalities really shine bright through their characters, and all the work behind the scenes will come through on the stage. We've also got some clever, special effects the audience will really enjoy."